Aploq is ISO 17100:2015 certified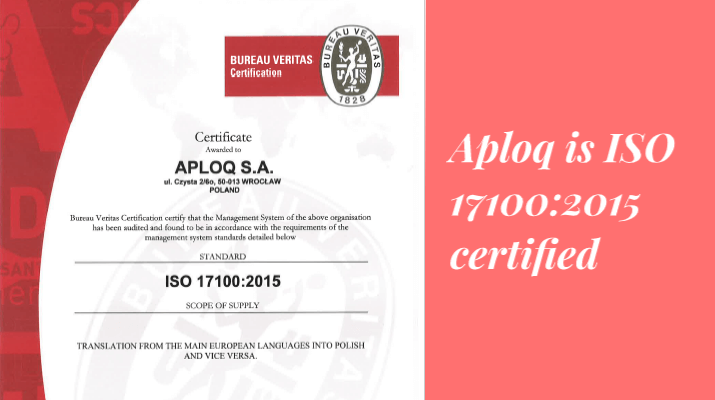 The day has come when we can proudly announce that on 13 November—10 years to the day since Aploq was founded—we were awarded ISO 17100:2015 accreditation. The certificate received on our 10th anniversary has a special meaning for us, marking yet another milestone on our way to the top players' league. For buyers around the world, the ISO 17100:2015 Standard is an indicator of reliability and commitment to quality. By setting minimum quality requirements, it confirms our diligence, particularly in terms of linguists' qualifications, workflows, feedback process and data protection. We want to thank the entire Aploq team for their efforts! Without you, this accreditation wouldn't have happened!
From day one, quality has always been central to our efforts. We could probably accept more jobs and work with more clients if we were less thorough at the project-preparation stage. We could definitely hire more translators and editors if we were less diligent in evaluating our vendors. But we've consciously chosen a path of sustainable growth where no quality corners are cut for the sake of increased profit. This is what Aploq's quality commitment is about. So, when it came to preparing for certification, we were almost there already. True, it took us ten months to prepare thoroughly, but only because we wanted to make sure every detail was polished to perfection. If you were already working with us a year or more ago, as either a client or a vendor, you might have noticed that … well … not much has really changed!
ISO 17100:2015

ISO Standard not only imposes minimum quality requirements in the core areas of an LSP operation but also defines tasks and processes. It covers such key issues as vendor management (translators, revisers, reviewers, proofreaders), quality assurance processes, transparency of communication, project preparation and verification (including tools) and data protection.
The auditor took four long (and for us stressful) hours to diligently examine all our working processes and practices:
vendor and client contracts
project management process (from initial inquiry to client feedback)
translation process (including the skills of all involved)
handling of quality issues
on-time delivery
data protection and accessibility
tools and resources available.
Last but not least, our data protection systems and GDPR compliance were checked. The certification process was long and tiresome at times, but in the end, it was worth every effort.
Advantages of adopting ISO standard
It's way too soon for us to list all the benefits of ISO17100:2015 accreditation. However, we've already gained:
external confirmation of our quality efforts
clarity on the service quality levels offered
proper organisation of all our databases and files.
And, we can proudly show off our brand-new certificate! It proves, like nothing else, that you can fully trust us and the high quality of our services!
Do you need help with Polish translations? You're in the right place! Drop us a line and let's chat! And below you can admire our certificate 🙂