Dos and don'ts of ordering translations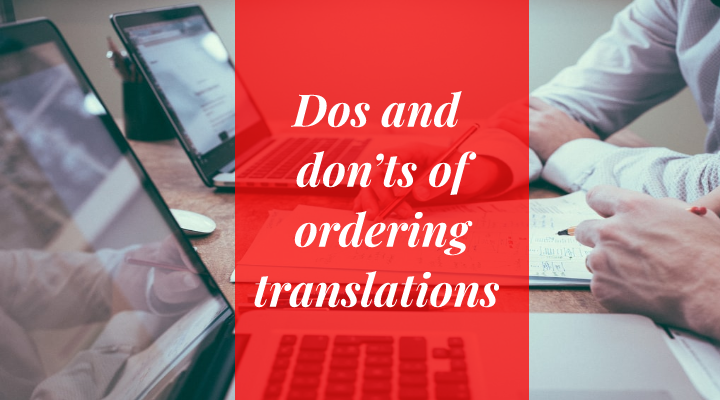 Just like every other industry, there are basic principles you need to stick to when ordering translations if you're to obtain high-quality and accurate results. Many companies are not aware of them, and that's why today, we're going to explain some of the crucial dos and don'ts and why they're so vital.
There are many options when you need a translation: you could go to a translation agency, hire a freelance translator or even translate the text yourself. Each of these options has its pros and cons, but today, we want to focus on working with a translation agency.
The truth is, if you're company representative, this is your best bet in most instances. Why? Chiefly, because agencies have many translators onboard and they're specialised in various services: sworn translations, interpreting, proofreading, technical translations, medical translations, etc. Each profession has its own requirements and a lot of experience is necessary to master them. Usually, you can find all of these experts in a translation agency. When you hire a freelance translator, they most likely won't be able to help you with sworn translations or interpreting.
So, what are the dos and don'ts of working with a translation agency?
Dos of ordering translations
There are a few of them, and they're really straightforward:
Make sure your translation is done by a native linguist
In most instances, this is the most effective and accurate way to translate a text, especially when you're ordering marketing translations, where nuances of language play a key role. A native speaker knows their language inside out – even ten years of studying a language can't compete with that.
Tell the agency where the translation will be used and what your expectations are
It's a commonly known fact that languages use different forms of expression, and a literal translation is rarely sufficient, let alone natural! That's why it's so vital to tell the agency what your translation is for.
Tell the agency who will read your translation
This is particularly important when translating into English or other languages that have several versions. There are big differences between British English and American English, for example. There are also various dialects within some English-speaking countries. A professional translator will need to take these differences into account when translating a text.
Share as many details as possible
Let's say you want to get a user manual translated. It will be much easier for the translation agency to provide you with an accurate quote if you share a sample or, even better, the entire manual.
Verify the agency's work
No one's perfect and, occasionally, errors may occur. Although professional translation agencies work with proofreaders, who verify the text before it's sent to the client (this is what we do at Aploq, at least), there's always a small chance that your text may contain an error.
Don'ts of ordering translations
So, having looked at five dos, let's talk about the don'ts.
Don't attempt to translate documents yourself
Naturally, it depends on the text you want to translate, but rarely is even a proficient user of a language able to work as a translator. It's better to leave translation in the hands of professionals. You wouldn't perform your own medical operation, so don't try to translate your text yourself!
Don't use your employees to translate documents
Consider the main role and duties of your employees and, unless you've recruited them specifically for the task, don't overwhelm them with translations. Even if they know the target language very well, they're not translators. You may be tempted to use your employees rather than translators to save money, but when it comes to professional, business translations, quality should be your primary concern, not cost.
Don't employ translators to translate out of their native language
This is especially crucial in business and marketing translations. An English native speaker who works with the Spanish language should translate only from Spanish into English, not the other way around.
Don't trust machine translations, especially when translating for business purposes
Yes, it's true, Google Translate has taken a giant leap forward. But it's still (and probably always will be) far from the quality a human translator can offer. Machine translations are immensely helpful when you want to understand what's written on a foreign website, for example, but never to translate your official documents and marketing materials! We encourage you to read our article on machine translation to find out more.
Don't pick a translation agency randomly
When you run a company, you should choose your partners carefully. The same principle applies to selecting a translation agency. Find out all you can about an agency before sending them your documents. What are their testimonials? Are they ISO-certified? Do they belong to any industry organisations? What do they specialise in? Is this specialisation useful for you? Getting answers to all these questions will help you make an informed decision.
As you can see, it's really simple! Stick to these rules, and you're good to go to order translations you'll be satisfied with. If you want to order Polish translations, we encourage you to check out our testimonials and specialisations. If you think we can help you, just drop us a line!