Business links between Poland and the United States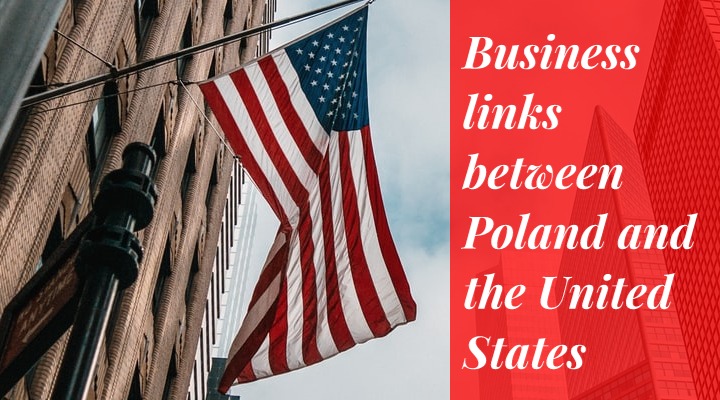 Our series of articles about business relations between Poland and its major business partners continues. In this article, we're going to focus on business links between Poland and the United States. Diplomatic relations between Poland and the U.S. were established on 2 May 1919, and this cooperation has been successful and profitable for both sides ever since. Today, the United States is the eighth largest importer of Polish goods.
Let's start with some history. During the Cold War, U.S.–Polish relations oscillated. Between 1956 and the mid-1960s, relations between the two countries improved. The friendship stagnated during the 1960s but started to improve again once Władysław Gomułka was out of power after 1970, and since the collapse of communism in Poland in 1989, the United States and Poland have enjoyed warm bilateral relations.[1] Today, they are flourishing.[2]
According to the US Department of State website, 'Poland is a stalwart ally in Central Europe and one of the United States' most vital partners in fostering security and prosperity throughout Europe and the world.' [3] The most significant aspects of the cooperation between Poland and the United States are:
NATO capabilities
Missile defence
Economic growth and innovation
Energy security
Regional cooperation in Central and Eastern Europe.
Broad cooperation in many areas
The two countries extensively cooperate in many significant areas. Let's start with the military sphere:
In 2019, Poland co-hosted with the United States the Ministerial to Promote a Future of Peace and Security in the Middle East
Poland hosts approximately 4,500 rotational U.S. military personnel
In 2020, these two countries signed the Enhanced Defense Cooperation Agreement (EDCA), which will enable a larger rotational U.S. presence in Poland.
Moreover, on 9 September 2020, Georgette Mosbacher, the American ambassador in Poland, informed us via her Twitter account that Poznan, the capital city of the Greater Poland voivodeship, has been selected to host the U.S. Army V Corps Headquarters forward command. She called the decision 'an important step in our military cooperation'.[4]
But there's much more going on, especially when it comes to business. As State.gov reports, many U.S. companies do business in Poland. According to the KPMG and AmCham (American Chamber of Commerce in Poland) report, companies from the United States are among the top foreign investors in Poland. Current estimations are that the value of American investments reached 130 billion PLN in the first quarter of 2018.[5]
Furthermore, organisations with American capital are among the largest foreign employers in Poland.
According to AmCham, these companies had 220,000 employees in 2015.
There are many reasons for this, including:
Relatively strong economic growth in Poland
A large domestic market
Tariff-free access to the European Union
A relatively low-cost and well-educated workforce in Poland
IMPORT AND EXPORT
U.S. goods imports from Poland totalled about 6.5 billion USD in 2019 and 8.3 billion USD in 2020. As an EU member, Poland applies the EU's standard external tariff for goods from other countries, including the U.S. Furthermore, the United States and Poland have signed a double taxation treaty, in accordance with FATCA (Foreign Account Tax Compliance Act), and a bilateral treaty on business and economic relations.
As is clearly visible on the graph below, provided by KUKE (The Export Credit Insurance Corporation), import and export between Poland and the United States have been growing year on year:
So, what are we exporting from and importing to the United States?
Our top three exports:
Machines and mechanical and electrical appliances and parts
Apparatus and tools
Vehicles, planes, ships and other means of transport
Our top three imports:
Machines and mechanical and electrical appliances and parts
Vehicles, planes, ships and other means of transport
Chemical industry products
It is important to mention that the United States is Poland's ninth most important trading partner, fourth among non-EU countries (after China, Russia and Great Britain). The U.S. share in Poland's turnover of goods in 2019 was slightly over 3%. Export to the U.S. ranks eighth, and in 2019 it had a 2.87% share in combined Polish export.
AMCHAM
The American Chamber of Commerce in Poland (AmCham) was established in 1990. Currently, it's the largest organisation devoted to strengthening cooperation between Polish and American companies. It comprises over 300 organisations, and their primary purpose is to build connections and develop the business market in Poland.
AmCham is an accredited affiliate of the U.S. Chamber of Commerce in Washington D.C. and AmChams in Europe network, which represents the interests of more than 17,000 companies, accounting for more than 1.1 trillion USD in investment, both in Europe and the United States. AmCham actively supports and promotes their members' interests, via global networks in business and politics.
The translation industry in the United States
In general, the American market is developed and competitive. This applies to the American translation market as well. Broadly speaking, there are over 59,500 companies in the United States that provide translation services.[7] And the market itself is worth over six billion USD. Estimations indicate that more than 90,000 people in the United States work in the translation industry.
The services most commonly provided by LSPs (Language Service Providers) are:
Written translation services
Interpretation services
Language interpretation services
Sign language services
Speech interpretation services
According to Statista, the American translation market has been growing every year since 2015 and is predicted to reach almost five billion USD of revenue in 2023.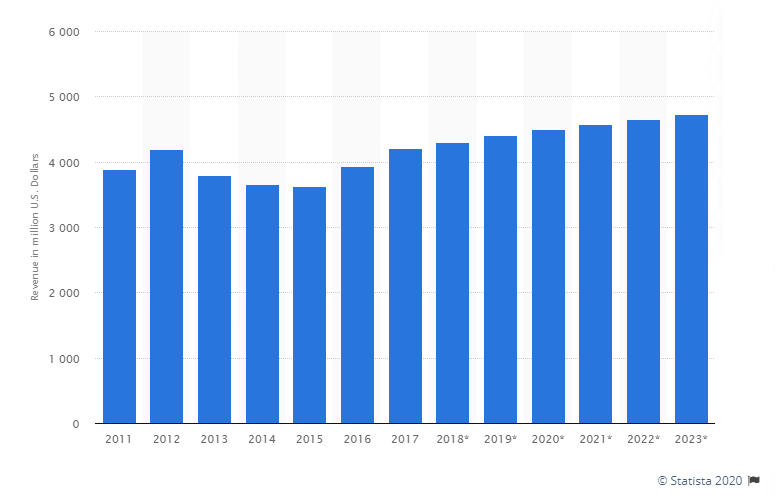 LANGUAGES SPOKEN IN THE UNITED STATES
When it comes to language diversity, the United States excels. According to babbel.com,[8] the six most spoken languages in the U.S. are:
English – 254 million native speakers
Spanish – 43,200,000 native speakers
Chinese (including Cantonese, Mandarin and other forms) – 2,900,000 native speakers
Tagalog (a language spoken in the Philippines) – 1,610,000 native speakers
Vietnamese – 1,400,000 native speakers
French and French Creole (including Cajun) – 1,281,300 native speakers
If you're interested in ordering translation from any of these languages into Polish, we're at your service. All of our translators and interpreters are native Polish speakers, so we're the perfect choice for your Polish assignments!
[1] https://history.state.gov/countries/poland
[2] Did you know that over 10 million Americans claim Polish ancestry, providing fantastic support for close U.S.–Polish relations? If you're interested in this subject, we encourage you to read our previous article about Polonia (Polish diaspora).
[3] https://www.state.gov/u-s-relations-with-poland/
[4] https://twitter.com/USAmbPoland
[5] https://assets.kpmg/content/dam/kpmg/pl/pdf/2018/04/pl-raport-polska-ameryka_pl-online.pdf
[6] https://businessinsider.com.pl/finanse/handel/import-i-eksport-polski-mapa-handlu-zagranicznego-dane-gus-2019/q6phd38
[7] https://www.ibisworld.com/united-states/market-research-reports/translation-services-industry/
[8] https://www.babbel.com/en/magazine/most-spoken-languages-in-the-us