What is Polonia and where can you find Poles?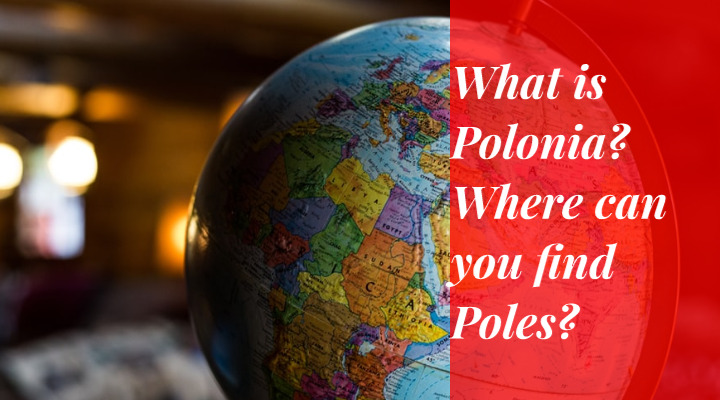 Have you ever heard the term Polonia? It's a Polish word, which basically means the Polish diaspora. It's what we call Poles living abroad. Although, in a narrower sense, Polonia refers only to people of Polish origin who are born outside of Poland, in this article, we're using the term in its wider sense. Today, it is estimated that Polonia counts about 20 million people worldwide.[1] If we compare that with about 38 million Poles living in Poland, it's quite a significant number!
It is also worth bearing in mind that the term does not include people and their descendants from territories that historically were part of Poland but found themselves living abroad as a result of changing borders. After the Second World War, three major groups of Poles were no longer living in Poland. The areas affected by border changes included:
Zaolzie (now in the Czech Republic)
Spiš (now mostly in Slovakia)
Kresy Wschodnie (now in Ukraine, Belarus and Lithuania)
People of Polish origin living in these places generally consider themselves as Poles, not Polonia. They are also referred to as Poles, even though they were neither born in Poland nor have Polish citizenship.
So, where can you find Polonia these days? There are five countries with major Polish diasporas, and these are:
The United States
Canada
France
Germany
Brazil
If you ask Poles about Polonia, they immediately think of the USA, and with good reason: around 10 million Poles currently live in the USA – half the entire diaspora![2]
Polish Americans
According to the United States Census Bureau, 10,500,000 Poles were living in North America in 2013.[3] So, which states and provinces do Poles favour?
MORE THAN 10% OF THE POPULATION IN THESE STATES/PROVINCES IS POLISH:
7–10% OF THE POPULATION IS POLISH IN:
Manitoba (Canada)
Illinois
Pennsylvania
New Jersey
Connecticut
5–7% OF THE POPULATION IS POLISH IN:
Saskatchewan (Canada)
Minnesota
New York
Massachusetts
Delaware
What about cities? In the United States, these five cities have a significant Polish population:
New York City – more than 213,000 Poles (while 2.7% of the New York State's population is Polish)
Chicago – more than 210,000 Poles (7.3% of the state's population)
Philadelphia – more than 65,500 Poles (4.3% of the state's population)
Milwaukee – more than 57,000 Poles (9.6% of the state's population)
Los Angeles – more than 56,500 Poles (1.5% of the state's population)
The exact number of Poles living in Canada is more difficult to estimate, as Polonia is widely dispersed across the entire country. Toronto has the largest accumulation of Poles: about 200,000 live in the city.
In the 2016 census,[4] 984,565 Canadians claimed to have full or partial Polish ancestry. However,  the number of Canadians who speak Polish as their mother tongue is an entirely different story! In 2006, Polish was the mother tongue of just 217,605 Canadians. And that number had dropped to 191,775 by 2016.
The following map shows the largest Polish populations. Due to the scale of the map, a certain amount of detail has had to be omitted, especially in Europe, where Germany and France are represented by a single spot.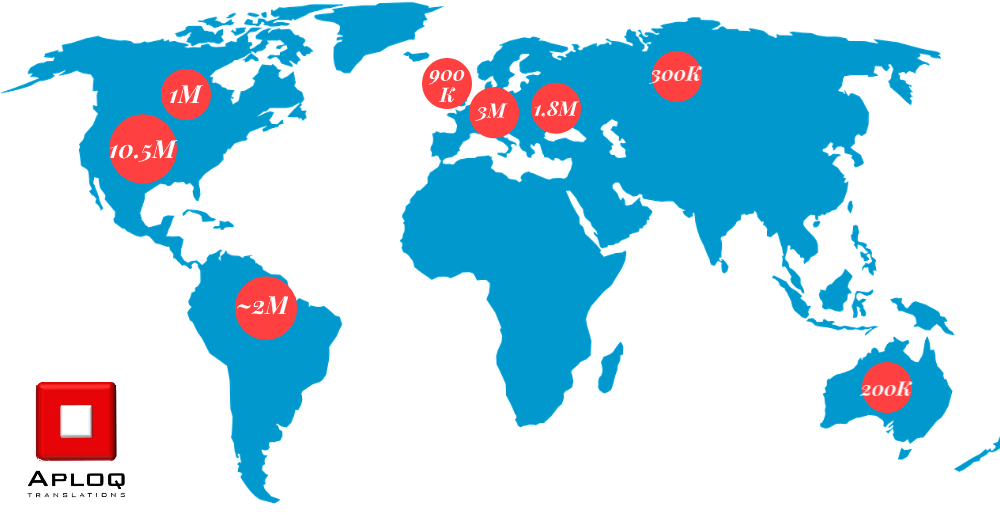 Poles in Europe
Naturally, Poles are also widely dispersed throughout Europe, primarily due to economic reasons. Where are Poles located in Europe?
Germany – 2,000,000 Poles
France – slightly over 1,000,000
United Kingdom – approximately 900,000
Belarus – 900,000
Ukraine – 900,000
Russia – 300,000
The number of Poles living in the UK is particularly difficult to estimate, as the figure changes dynamically. According to Wikipedia, 832,000 Poles were living in the UK in 2018.[5] The European cities with the highest number of Polish residents are:[6]
Paris – 300,000
London – 185,000
Berlin – 100,000
Vilnius – 87,000
Poles in other parts of the world
It may be a surprise to learn that the largest Polish population outside of Europe and North America is to be found in Brazil! Depending on the source, the number of Poles living there ranges from 1,500,000 to 3,000,000.[7] Curitiba, the capital and the largest city in the Brazilian state of Paraná, has the largest Polish population, with about 400,000 people of Polish ancestry living there.
The other two countries worth mentioning are Argentina, with about 450,000 Poles, and Australia, 200,000. Of course, Poles also live in other countries in the world, but we have focussed on those with at least 300,000. (Bear in mind, too, that these statistics may not be exact or current.)
What does all this tell us? That we are a brave and ambitious nation! We are keen to explore the unknown, face various challenges and make every effort to improve our living conditions. Poles have always been known for their stubbornness and an amazing can-do attitude. We believe that the worldwide span of the Polish diaspora is the ultimate proof of that!
No matter where you are – Brazil, Canada, Australia or France – remember that if you need Polish language services, Aploq is your best bet! Just go to our contact section and drop us a line! We're at your service.
Sources:
[1] https://en.wikipedia.org/wiki/Polish_diaspora
[2] Unfortunately, the exact number is not measured annually by the Polish Statistical Office, so this figure dates from 2007 (https://pl.wikipedia.org/wiki/Polonia).
[3] https://en.wikipedia.org/wiki/Polish_Americans
[4] https://www.thecanadianencyclopedia.ca/en/article/poles
[5] https://en.wikipedia.org/wiki/Poles_in_the_United_Kingdom
[6] https://culture.pl/en/article/7-most-polish-cities-outside-of-poland, https://culture.pl/en/article/from-the-wisla-to-the-spree-polish-culture-in-berlin