Online Translations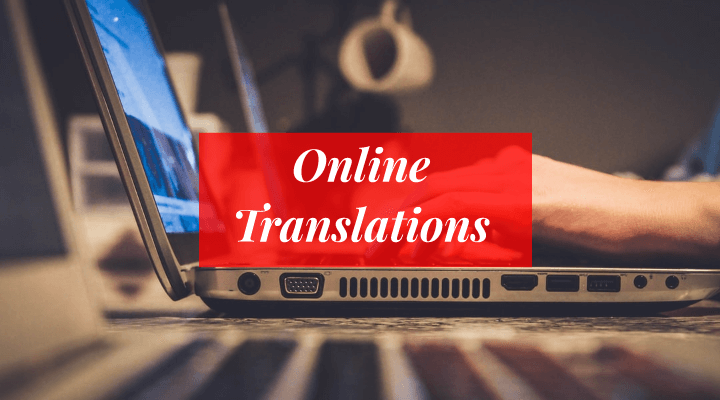 The vast majority of services provided by translation agencies are 100% online. Today, in a world altered by COVID-19, online translation services have become even more crucial. What influences their current form? What tools allow us to work in this way? What are the benefits of using online translation services? Let's examine these questions and see what a translator's work looks like at the beginning of the third decade of the 21st century.
In the not-too-distant past, when the Internet was in its infancy, the translator's work was entirely different. Of course, the goal was the same – to translate text from one language to another – but the customer had to visit the translator's office to deliver the printed text. The translator accepted the order and started working, using dictionaries and other aids gathered over the years to help them and ensure an accurate translation. However, those times are long gone.
The Internet introduced new industry standards
The translator's work changed with the arrival of the Internet. Today, online translation service is an industry standard. The process is usually as follows:
The customer provides documents in an electronic format (e.g. PDF, JPG, DOC) and sends them via e-mail to the translation agency.
The translation agency prepares a quote and, after acceptance, starts translating.
The translator uses a variety of online tools to speed up the work and ensure the accuracy of the finished translation.
The translated text is sent back to the client in the same electronic format.
Quick and simple, isn't it? However, there are some exceptions to this, which we'll address below. Let's get back to the stage right after the translation agency accepts the documents. In the past, as we mentioned earlier, translators used mainly printed aids, like dictionaries; today, the number of online tools available to translators to help them in their work can cause a headache!
Online translation aids
Tools that support written translations can be divided into three major categories:
CAT TOOS
CAT stands for Computer-Assisted Translation. These are advanced tools that check the translator's work on an ongoing basis (e.g. spelling or grammar) and allow glossaries and dictionaries to be uploaded. Currently, the vast majority of translators use one or more CAT tools. Among the most popular ones are SDL Trados, Wordfast and OmegaT. At Aploq Translations, we're huge fans of SDL Trados, as this software works perfectly with the Polish–English language pair. If you'd like to read more about CAT tools, we encourage you to check this article.
GLOSSARIES
Glossaries are very helpful, especially when it comes to complex translations, for example technical or medical ones. The glossary ensures consistency of the translation, showing how the translator has decided (or the client wants) to translate a given term. It differs from a dictionary in that it doesn't contain explanations of words or possible synonyms. A glossary entry is usually short and specific: the term X in English should be translated by the term Y in Polish.
Glossaries have two advantages:
a) Speed: The translator doesn't have to think about what term they should use: the choice has already been made for them.
b) Consistency: There's no risk that the English word X will be translated into Polish Y in some places and into Z in others.
THESAURUSES
In a very general sense, these are like dictionaries, but their role is slightly different. Most often, they contain synonyms of a given word, but also antonyms (opposing words) and hypernyms (parent words). The thesaurus allows the translator to perform the task more accurately.
ONLINE INTERPRETING SERVICES
Many people don't know that interpreting can be provided remotely as well. Such a service is called RSI (Remote Simultaneous Interpreting). The interpreter is located in a place isolated from other meeting participants (including other interpreters) and uses their own infrastructure, without direct technical support from the client.
The benefits of online translation services
The introduction of online translation services into the offer of translation agencies has significantly shortened the process. That's why, at Aploq, we willingly cooperate with our clients online. It means we can easily provide our services to clients worldwide and start working on a given assignment within minutes. Many of our clients also value the fact that in most cases they don't have to come to our office, which saves them time and money.
So, when may you still need to visit the translation office?
This may be the case, for example, if you need to order certified translations, so-called sworn translations. Of course, you can send documents for translation via the post, but since they are usually highly important, it is safer to deliver them to the office in person. It may also be possible for a sworn translator to translate a scan of a document. In such a case, the translation will have an annotation stating that the translation is based on a copy of the material, not its original.
Some agencies – including APLOQ – offer a certified translation service with a so-called qualified electronic signature, which replaces a handwritten one. Such a solution is accepted by both Polish and European legislation. This means that you don't have to go to the translation agency in order to pick up the certified translation. You will receive it via email.
If you'd like to find out more about sworn translations, check here.
To sum up, the Internet has been a huge boon to the translation industry. Thanks to many modern aids, we can deliver translations much faster, and they're more accurate. And it's made the work a little easier for us, too.
If you'd like to order Polish online translations, we're at your service! Just go to the contact section and drop us a line!