5 reasons to choose a professional translation agency over an online translator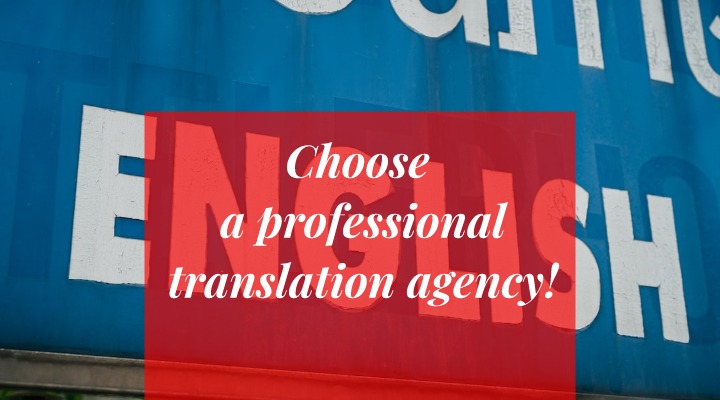 Business is increasingly global and international, but language barriers still pose a hurdle. As such, the need for professional translation services is more important than ever. You may be tempted to use an online translator to translate a document or website in your native language into another language, but they aren't always the best solution. Find out why!
Accuracy
There is a big debate in the translation industry about the accuracy of translations produced by online services such as Google Translate. While some progress has been made in developing these tools, they are still not as accurate as a human translator. This is especially true for technical or legal documents, where one small mistake can have serious consequences. This is because online tools use algorithms to translate text, which can often result in incorrect or unnatural translations.
On the other hand, professional translation agencies employ human translators who are native speakers of the target language and have expert knowledge of the subject matter. This is important because it ensures that the translated text is accurate and culturally appropriate. It also allows for a more personal level of communication between the translator and the client.
There are many different factors that go into the accuracy of a translation, including the quality of the source document, the qualifications of the translator, and the review process. So, if you would like to receive a highly professional text, choosing a reputable translation agency is paramount.
Confidentiality
A lot of businesses require their documents to be kept confidential. They cannot risk entrusting them to an online translator who might not have the highest level of security. When you choose a professional translation agency, your documents are treated with the utmost confidentiality. This is vital for businesses and individuals who need to protect their information.
When you use an online translator, you have no control over who has access to your documents. On the other hand, the translation agency should have strong security measures in place to protect your information. They should also be able to provide you with a confidentiality agreement that outlines how they will keep your data safe.
How can you verify this?
You can start by asking them about their security procedures and whether they have a confidentiality agreement. This will help you gauge how serious they are about protecting your data. If they don't have one, this is a red flag.
For example, our agency has an ISO 27001 certification, which is the international standard for information security. This means that we have implemented a comprehensive set of security controls to protect our client's data.
Quality Assurance
A human translator will always provide a more accurate translation than an online program. Additionally, most professional agencies have a Quality Assurance department that will check your translated documents for errors before delivery. Quality is the number one priority.
Online translating programs can make mistakes in grammar, spelling and meaning. They also lack the ability to translate idiomatic expressions correctly. A human translator is more likely to catch errors and produce more accurate text. When translating idiomatic expressions, it's essential to consider the cultural context in which they are used. A human translator will be more aware of these nuances and able to produce a more professional translation.
Moreover, human translators are able to adapt their style to meet your specific needs. They can also offer suggestions on how to improve your text for a foreign audience. Online translating programs are not able to offer this level of customisation.
Customer service
When it comes to choosing a translation agency or online translator, customer service is often the most important factor. Which one is the best?
A good translation agency will have a dedicated team of customer service representatives who are always available to answer your questions and help you with any problems you may have. A company that is responsive to your inquiries and provides excellent customer service is more likely to provide a high-quality translation than one that does not.
Online translators typically have a chat system or email address that you can use to contact them, but they may not always be available. Such contact methods are useful for getting quick or simple answers to your questions but are not always reliable. What is more, online translators may not be able to answer all of your questions, or they may provide inaccurate information.
Ultimately, the best way to choose between a translation agency and an online translator is to evaluate your own individual needs and requirements. If you need just a quick and short translation, then an online tool is likely your best bet. However, if you need a more complex or technical translation, then it's worth considering using a professional translation agency.
Remember – once you have found a good agency, be sure to communicate your needs and requirements clearly so that they can provide the best possible service.
Peace of mind and short turnaround times
When it comes to something as important as your business or personal documents, you want to be sure they are translated accurately and quickly.
The right translation agency has a team of highly skilled and experienced linguists who are able to translate your documents accurately and with a high level of detail. Additionally, they should be able to work with you to ensure that the finished product is exactly what you need it to be and in the timeframe you need.
This way, you can focus on your business goals and leave the document translation to the experts.
However, it would help if you remembered that translation can be a complex and time-consuming process, so it's important to factor in enough time for the agency to do its job properly. Ask about their rates, turnaround times, and processes for handling projects. Make sure you understand the process and what will be expected of you before getting started. It's important to have a clear idea of what the project entails from start to finish.
Do you want to see all these benefits in action? Drop us a line! The Aploq team is eager to support you in all your language-related needs!
Suggested read: