Technical translation: experience required!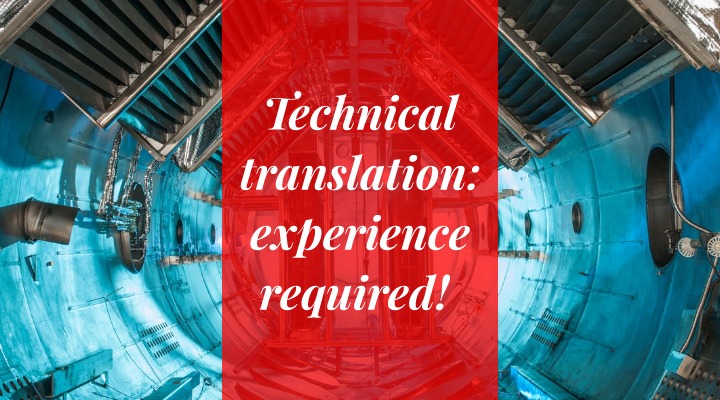 Technical translation is an extensive sector within the translation industry and also one of the most demanding and challenging. If you need a high-quality translation, working with an experienced translation agency is your best option. Look for a company that has proven expertise in your industry or niche. Choosing one that has previously undertaken work using similar vocabulary will help ensure the accuracy of the translation and will significantly speed up the order-completion time.
Without a doubt, the most important issue that needs to be addressed when translating technical documents is accuracy. We are frequently asked to translate materials and texts relating to specific equipment and procedures. Here, just one misplaced comma may affect the actions performed by employees. This, in turn, may have a detrimental impact on their safety or the company's assets.
Technical translations cover a multitude of different industries – chemical, electrical, optical, electromechanical, mineral, metallurgical, wood and paper, etc. The chemical industry, for example, requires safety data sheets (SDSs) to be prepared for every single chemical product that enters the market. These SDSs are governed by specific rules and their form is strictly defined. An agency that is used to translating SDSs will undoubtedly be able to handle a similar assignment much faster than someone who is unfamiliar with them.
What needs to be translated?
Concerning technical translations, there is a multitude of different forms, texts and manuals that need to be translated. We frequently translate the following types of documents:
Technical and operational documentation
Technical documentation for machines and devices
Safety standards
Architectural plans
Business plans
Advertising and information brochures
Depending on the type of document, the completed technical translation should be verified by at least one person – ideally, someone who was not involved in the translation process. This person needs to have experience in the given industry. At Aploq, every text is also verified by a professional editor, who checks the text in terms of language and potential errors before it is sent to the client. The most complex technical translations are verified by an industry expert fluent in the target language.
The importance of terminology glossaries
To accelerate the pace of work and ensure the accuracy and internal consistency of the translation, professional translators use glossaries. Originally, glossaries were collections of glosses (footnotes) to individual words or text fragments added by the copyist. They were placing them on the page margins.
Today, the glossary is a kind of terminological dictionary. However, the primary purpose of a translation glossary is not to explain the meaning of a given term but to indicate how to translate it into the target language. Consider a straightforward example:
Let's say you want to order a translation of an automotive text from English to German. Your technical text includes the term 'dual-mass flywheel'. If your company or translation agency has a glossary, the translator working for you can quickly check and see that this term should always be translated as 'Zweimassenschwungrad', regardless of the context in which it appears. This saves the translator from wasting time wondering what term to use.
Glossaries are immensely helpful! When we are translating documentation containing dozens (if not hundreds) of different technical terms used in a variety of contexts, it is easy for even for the most experienced and skillful translators to get lost. Glossaries help the translator to focus on their task and take care of the quality of the translation.
Entrust your technical translations to an experienced agency
Technical translation is a complex field that requires experience and extensive industry knowledge. If you don't have a full-time translator with experience in translating technical texts, the safest solution is to employ the help of an experienced translation agency, like Aploq.
Translation agencies that work regularly on technical translations are constantly gaining experience and building an extensive knowledge base in specific areas. For example, our agency has completed translations for texts relating to hundreds of different machines and devices. Receiving a contract to translate a manual for a product that's similar to one we've already worked on in the past makes it easier for us to ensure the top quality of our translation so that the client receives a consistent text that meets their expectations.
Finally, a piece of advice: if you, as a client, already have a list of technical terms and the translations you prefer, it is worth submitting it to the translation agency of your choice. That way, you guarantee that each technical term will be translated in accordance with the company's and industry standards.
If you are looking for an experienced translation agency that will translate your technical texts into Polish, you're in the right place! Drop us a line today, and let the work begin!