IT translation: it's not just from English!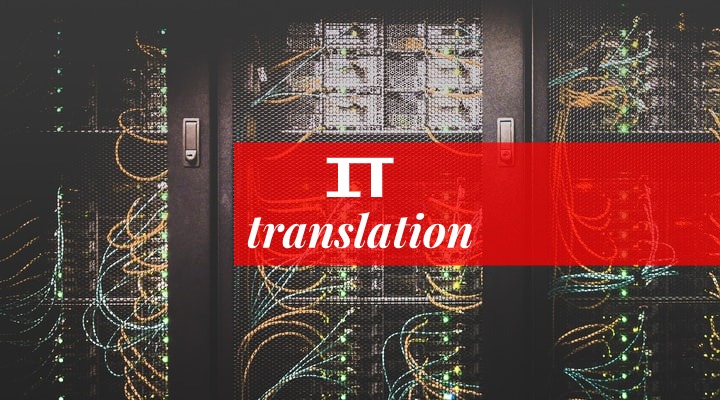 Many people think that English is one of just a few languages in use in the IT industry. And yes, to some extent, that's true: English is prevalent in the IT world. But our translation work for the IT industry goes far beyond English to Polish translations. After all, games and apps are available in lots of languages! In fact, this aspect of IT translation can be particularly challenging. Here, translation is just part of the work: localisation is also indispensable. In this article, we're going to take a closer look at IT translation and at what you need to consider when ordering IT translation services.
The IT industry uses specific language that requires terminological precision. Accuracy is critical, especially as regards materials and texts for professionals – software developers, testers and engineers. Many IT terms don't have a Polish (or other) equivalent.
What needs to be translated?
The IT world operates primarily online. So, the vast majority of texts are exclusively for online use – on websites, app stores and for the applications themselves. We frequently translate the following types of IT texts:
Manuals
Licenses
Technical descriptions
Marketing materials
App descriptions
But our work involves much more than this. Translating software (apps, games, etc.) is complex and time-consuming work. In many instances, IT professionals remain closely involved in the project as their knowledge is indispensable in helping us successfully translate the software.
Let's look at one such translation project. In mid-2020, we were asked to translate an entire mobile application.
TRANSLATING THE FIZZUP APP
FizzUp is a French fitness mobile app, designed for individual training and yoga sessions. It offers a wide range of original training programmes, detailed exercise plans for each day and a variety of exercises to work on every area of the body. We were asked by the app's owner to translate and localise it into Polish. In total, we had to translate and localise more than 50,000 words. Having translated the text, we spent over 10 hours making various adjustments and corrections. But our job was not done there. Next, we had to localise and adjust keywords and phrases for AppStore and Google Play (two mobile app platforms that allow downloading of FizzUp), to ensure that the Polish version of FizzUp is easy for Polish users to find. If you're interested in this project, read our full FizzUp case study.
Localisation in the IT world

The specialist knowledge of our IT experts and translators enables us to offer a top-of-the-line localisation service while maintaining accuracy and matching the high quality of the original text.
Modern software and applications have many language versions, and, naturally, each language has its own specificity and requirements. The localisation service is essential, as it adapts the translation to the socio-cultural context of a given country or language. The resulting translation will not only be correct but will also sound natural to target audiences. Software that has been efficiently localised will help you break into foreign markets and is essential for a company that operates in many countries.
It's also worth noting that, especially as regards IT translation, localisation involves modifying other elements, too, such as:
Criteria for sorting search results
Cookie notifications
Privacy policies
Terms & conditions
Metadata, etc.
The significance of DTP in IT translation
DTP, which stands for desktop publishing, is another vital IT-related service. DTP refers to all the processes related to the preparation of a text for publication (in print or online form). This service also comprises the conversion of non-editable documents and files into editable ones. Such modification speeds up the translation process and makes it possible to edit and update these files in the future. Our experience has shown that companies operating in the IT industry often order DTP.
Thanks to DTP, we can translate your images, videos and other non-text-format files that contain text. Our DTP experts are capable of reproducing every element – layouts, colours, backgrounds, fonts and other elements of the file – so that the target file looks exactly like the source one.
Infographics, catalogues, promotional videos, logos and other trademarks, animations and screenshots – we work with almost every type of file format. And if graphics require modification, for instance because the text length has changed in the translated version, we can modify them as well.
Entrust your IT translations to an experienced agency
As you can see, IT translation is a complex and multifaceted part of our work. If you're after a high-quality, accurate and comprehensive translation service, working with a professional agency is your best and safest bet.
Aploq collaborates with many IT experts working in different fields with different areas of expertise. With our help, you will get a translation that is 100 per cent accurate and modified to suit your target audience. We are experienced in translating mobile apps, games, websites, manuals, online stores and many other types of content, and we know how to take good care of your project.
Finally, the majority of IT companies want to know that each technical term will be translated in accordance with the company's and industry standards. To ensure this, companies often use glossaries – documents that contain all the relevant words, along with information on how to translate them into the target language. If your company has such a document, feel free to send it to your chosen translation agency. It will simplify the translator's job, and for you, the client, it will ensure that the translated text is consistent with your other materials.
If you're looking for a translation agency that can help you with IT texts and translate and localise them into Polish, you're in the right place! Drop us a line today and show us your project!