What is user-generated content, and why should you translate it?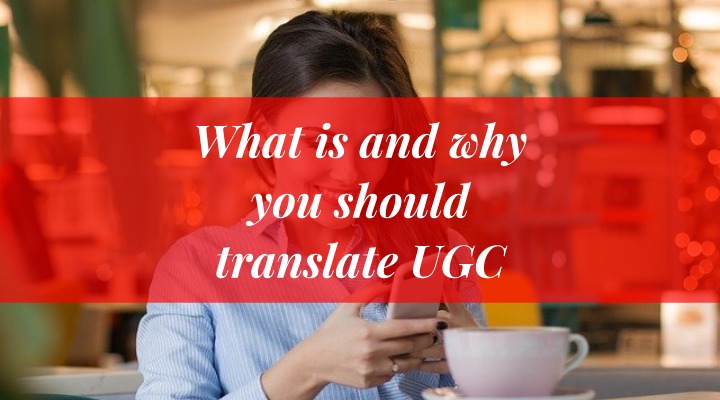 What is user-generated content, and why should you translate it?
The internet offers many amazing opportunities. We can learn new things, communicate with our friends and family all over the world, gain new skills, and, yes, share our thoughts and opinions. And today, we want to talk about that last aspect of the internet. People share, comment and post reviews all the time. In many situations, it's directly related to companies, products and services. And when it does, it can have a significant influence on your brand's image. In this article, we're going to talk about user-generated content – what it is and why you should translate it. Let's get right to it!
Some time ago, this interesting research showed why people actually share their thoughts and opinions. The study was conducted by The New York Times Customer Insight Group. It revealed five critical reasons why people post on the internet[1]:
49% of respondents said sharing allows them to inform others of products they care about and potentially change opinions or encourage a specific action
68% share to give people a better sense of who they are and what they care about
78% share information online because it lets them stay connected to people they may not otherwise stay in touch with
69% share information because it allows them to feel more involved in the world
84% share because it is a way to support causes or issues they care about
As you can see, sharing has a deep psychological foundation. We comment and post opinions so willingly because it's important to us. What does it mean to the business world?
User-generated content in the business
For starters, we need to emphasise that user-generated content (UGC) can have a massive impact on your company. In some extreme situations, it can determine whether your business succeeds or fails. Let's analyse a high-profile case of the documentary "Super Size Me" from 2004. If you've never seen this movie, here's a quick summary: The main character, Morgan Spurlock, decides to eat nothing but McDonald's food for an entire month and film it. He also eliminates the majority of physical activity.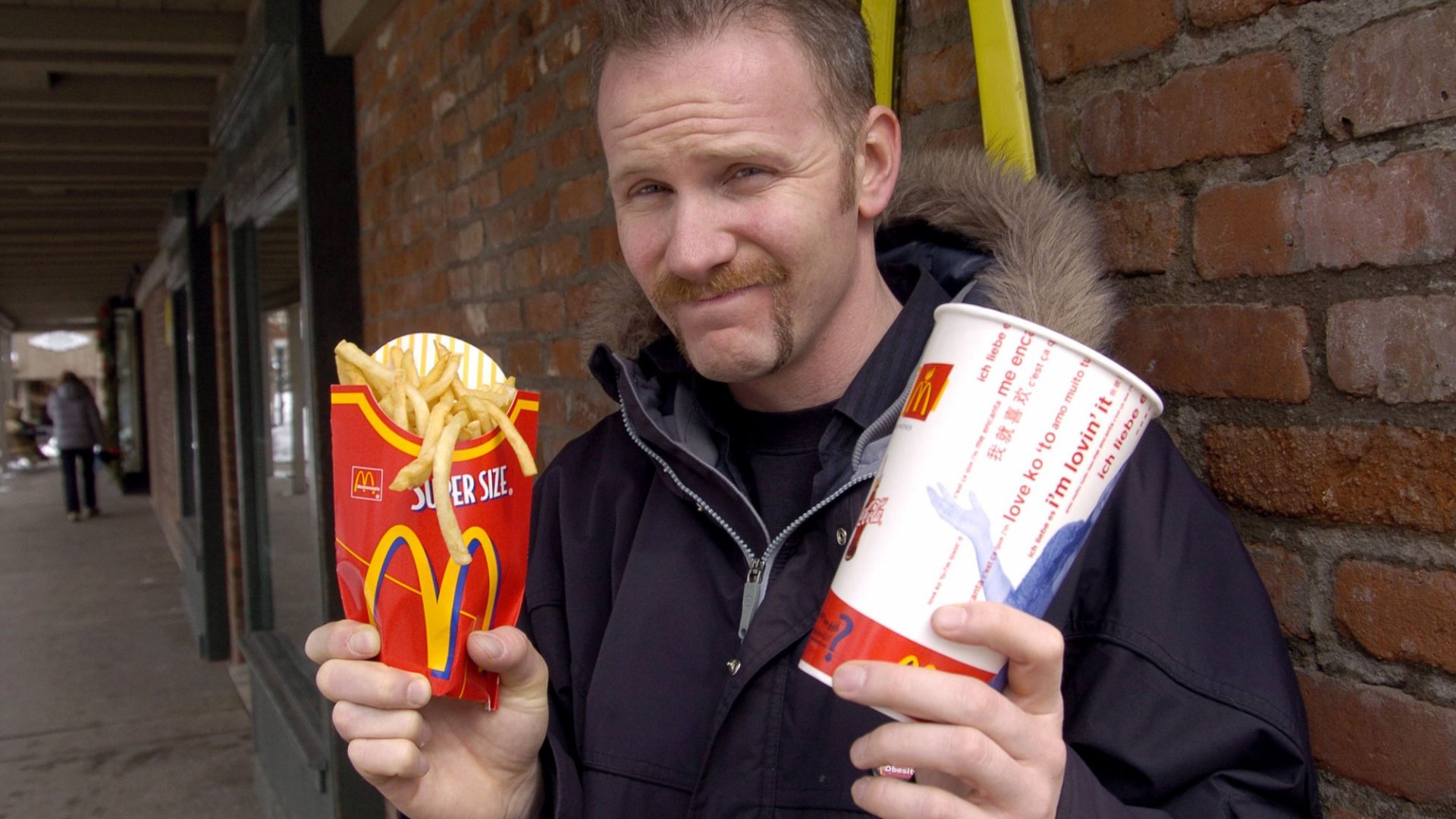 image source: https://www.inc.com/erik-sherman/super-size-me-joins-ranks-of-media-promotions-that-open-real-restaurants.html
It doesn't take a rocket scientist to guess the result. Spurlock gained 18 pounds (over 8 kg), and his cholesterol increased significantly. How did his experiment affect one of the largest fast-food chains in the world? According to Wikipedia[2]:
6 weeks after the film's debut, McDonald's discontinued their supersize portions.
In the United Kingdom, they publicized a website that included a response to and criticisms of the film.
In theatres in the UK, the company placed a brief ad in the film's trailers, pointing to the URL and stating, "See what we disagree with. See what we agree with."
McDonald's in Australia responded with an advertising campaign that included three elements: 2 advertisements for TV and 1 produced to be shown in cinemas.
This documentary is a perfect example showing how powerful user-generated content can be. That's why every reputable brand listens to its customers and implements changes when necessary. But there is the other side of the coin: You can use user-generated content to grow your business.
HOW CAN UGC HELP YOUR COMPANY GROW?
There are a few ways that you should be aware of. First off, users publish content that's generally deemed objective and natural. Therefore, they can present your brand and its products in a way that you, as an owner, never could. Let's take a look at this example:
This iPhone 7 scratch and bend test has over 18 million views. And Apple's product is at the very centre of it the whole time. Just imagine how much money you'd have to spend to show your product to about 18 million people! Most likely, a lot. And given that such a video was not made by the company, people are more willing to believe what they see in it.
Companies also benefit from user-generated content when they ask their users to rate products and customer service. A quick example – Google My Business. Each GMB profile has a star rating along with a number of reviews. The more reviews your company has, the better. Also, take care of a 4.0 or a higher overall rate.
According to the Local Consumer Review survey conducted in 2020[3], 87% of consumers read online reviews for local businesses. 60% do so "always" or "regularly". What's even more interesting, the same study revealed that only 48% of consumers would consider using a business with fewer than 4-star ratings. In another question, as much as 94% of respondents said that positive reviews make them more willing to use a business: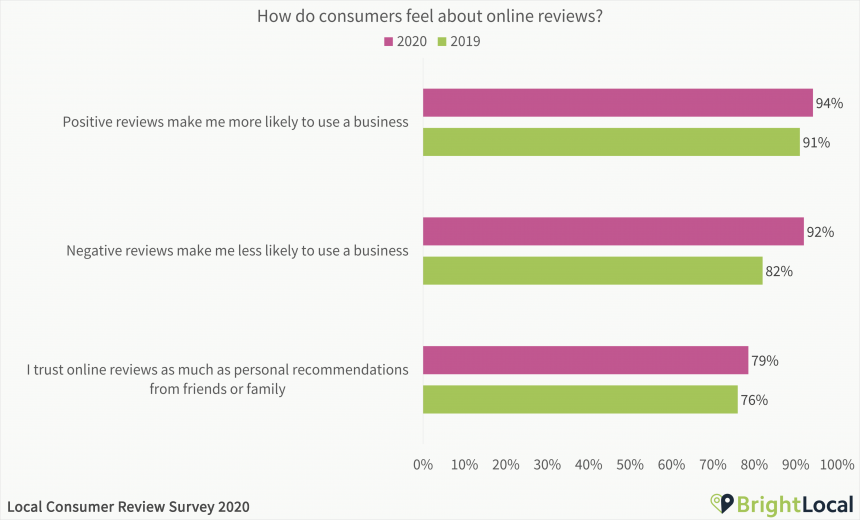 image source: https://www.brightlocal.com/research/local-consumer-review-survey/
As you can see, UGC can have a massive influence on your company's performance. You should, therefore, encourage customers to place more reviews and materials related to your brand. And, more importantly, you ought to make sure the reviews you get are positive, obviously, by providing the best customer service possible.
HOW TO MAKE THE MOST OF UGC
You can use user-generated content on your website and social media profiles. What can you do to get more reviews and comments? Often it is enough just to politely ask the customer to describe their impressions of your product. Do you remember that study we talked about at the beginning? Everyone wants to be heard. In a place where the customer is supposed to add a review or a comment, you could write something such as: "Here, you can describe your experience with our product". Having a short message of this type may make the client feel obliged to write a few sentences.
Here's the second idea. Customers are usually more likely to do something if they have a chance to get something in return. You can offer a small discount or free shipping for the next order as a thank you for your feedback.
Thirdly, make sure these opinions are clearly visible on the website. This way, customers will have a sense of being important and heard. Many companies present star ratings and reviews directly on the product tab but also on the main page.
Now, let's answer the final question: Why should you translate user-generated content?
Why should you translate UGC?
The main reason is that we generally like to read in our mother tongues. That's especially important for international companies that provide services in countries speaking different languages. In such a situation, these companies usually decide to run one main international web page supported by a list of local websites published in local languages. This is what Samsung does. They have one main website Samsung.com, but there are over 140 versions of their website, published in local languages: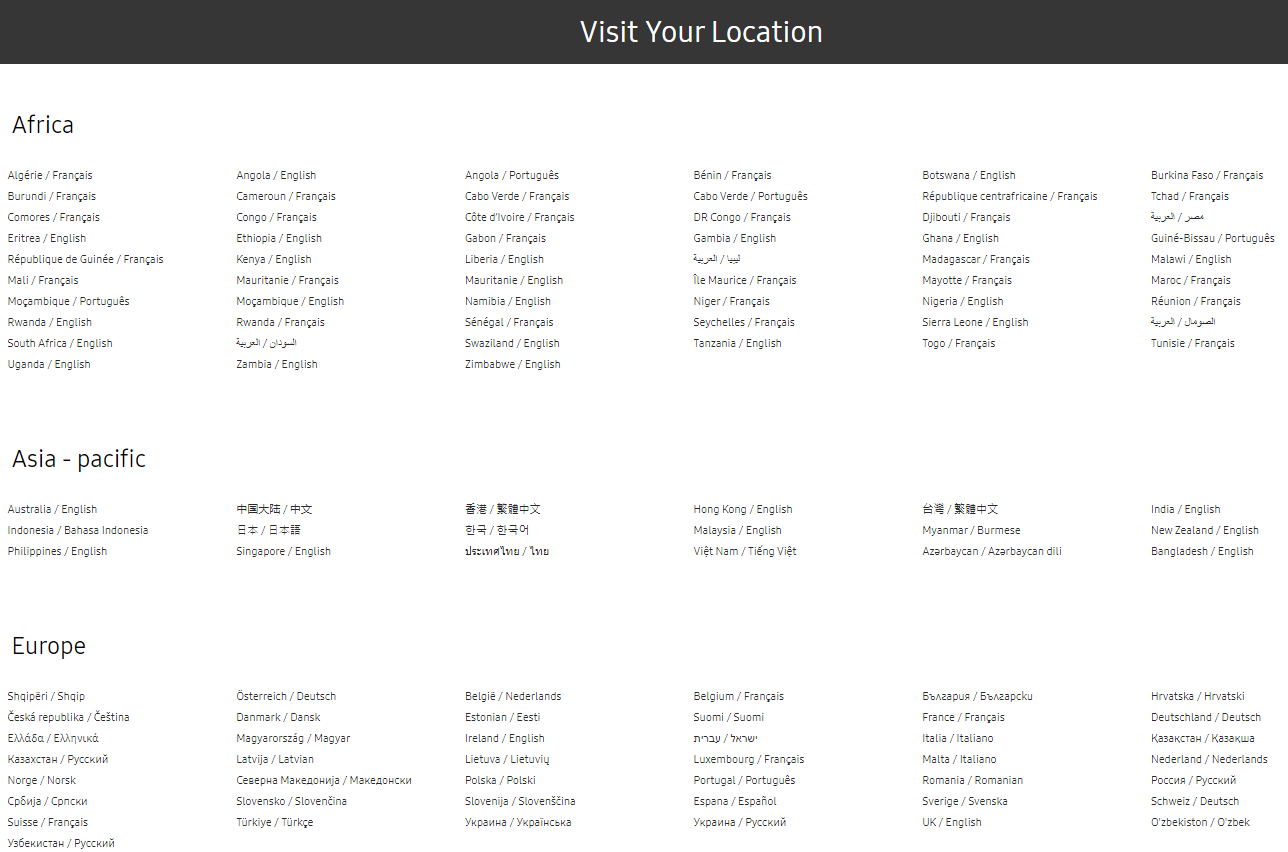 image source: https://www.samsung.com/pl/function/ipredirection/ipredirectionLocalList/
You should do the same thing and allow users to browse, read, and publish content in their native language. This way, they will feel more encouraged to write something. Moreover, their comments/reviews will be more natural and meaningful. Keep in mind that not everyone speaks English or another major language fluently enough to be able to write a substantial comment in it.
Of course, later on, you can (and should) translate this content to other languages, but the original version should always be written and published in the user's language. Translating UGC to other languages enables you to show that customers all over the world are satisfied with your brand. Additionally, it shows that you value your customers' voices and are willing to broadcast them far and wide.
Believe us, when you show your customers that you value their opinion and want to help them be heard, the response will be more enthusiastic than you could ever imagine!
And if you operate in Poland, ensure that all the relevant content, including UGC, is translated into Polish. But that's a job for the Aploq Team! We will gladly help you translate all of your texts and documents into Polish. And because we're native Polish speakers, you can rest assured the result you get is not only correct, but natural as well. Drop us a line for details!
[1] https://coschedule.com/blog/why-people-share
[2] https://en.wikipedia.org/wiki/Super_Size_Me
[3] https://www.brightlocal.com/research/local-consumer-review-survey/
Also read: