Localising games and apps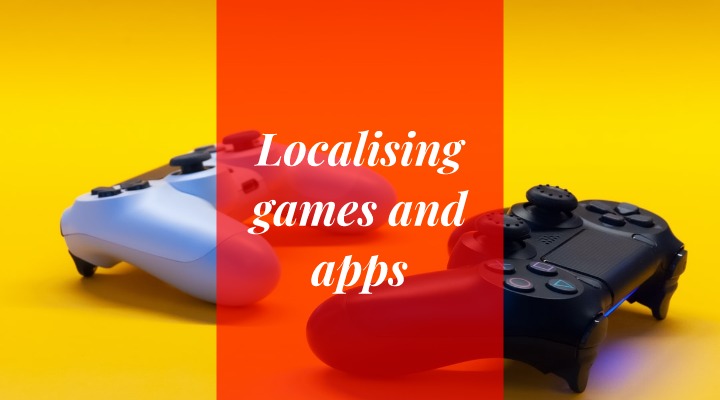 On our blog, we frequently emphasise the role of localisation. In the online and video game environments, this comprehensive translation-related service is especially critical. Why is that? And how should you prepare your game or web/mobile app for international conquest? Since this endeavour is multifaceted and complex, we decided to share some practical advice that should help you get through it.
At first glance, everything is cut and dried. You have a game/app, you translate it, and after a few weeks, you're good to go and sell it in other countries. The reality is far more complicated, and that's primarily because of something we call user experience (UX). You see, if you want to succeed with your game/app on the foreign market, you have to make sure the new language version of your product is flawless and ensures unparalleled gameplay.
The role of UX
The vast majority of games and apps have but one purpose–to entertain (and engage) users. And the best way to achieve this goal is through an amazing user experience. That's why modern video games and their visual layers are becoming more and more realistic. Physics is 100% natural, and the backstory is so extended even J.R.R. Tolkien would approve.
Modern games are all about creating a holistic virtual environment that offers outstanding gameplay, an exciting plot and vast opportunities to develop and lead your character. In all of that, the textual layer is essential. After all, we have:
Dialogues
Narration
Statistics
Descriptions
Technical information and many more elements
Each of these pieces of content has to be polished and adjusted to the virtual world where the game is played. And that's not an easy task since modern games consist of maps and stories covering the whole fantasy world or even universe.
The No Man's Sky game is a tremendous example of how extensive a modern video game can be. It consists of over 250 different… galaxies. Someone calculated that if a player were to visit one planet per second, it would take almost 600 billion years to visit them all[1]. Surely, you get the picture. The modern gameplay experience has to be carefully crafted and designed with rigorous attention to detail. Players are demanding, and any inconsistencies and glitches are quickly spotted and pointed out.
Therefore, you have to make sure everything runs like clockwork, including the broadly understood textual layer. And we can briefly say that the way to make sure your game/app is flawless from the textual and language point of view consists of three steps:
Three steps to localise a game or an app
Simply put, if you want to introduce your game or app to foreign users, you have to follow the process comprising three elements:
Translation
Internationalisation
Localisation
Let's take a closer look at these three stages:
TRANSLATION
That's always a starting point. Everything within the game has to be translated into the target language. Usually, this part of the work is done by experienced translators who understand the video game industry and the online environment. It's even better when translators are familiar with a specific title or a franchise.
INTERNATIONALISATION
While translation and localisation are focused primarily on the in-game content, internationalisation revolves around the game's technical infrastructure. Each market has its own technical requirements that need to be taken into consideration. Internationalisation deals with issues and game elements such as:
Character encoding
Date and time formats
User interface
File structure
Fonts and message windows
Special symbols and other elements
Of course, textual and visual assets also need to be adapted to the local market needs and requirements. Here's how it could look in real life: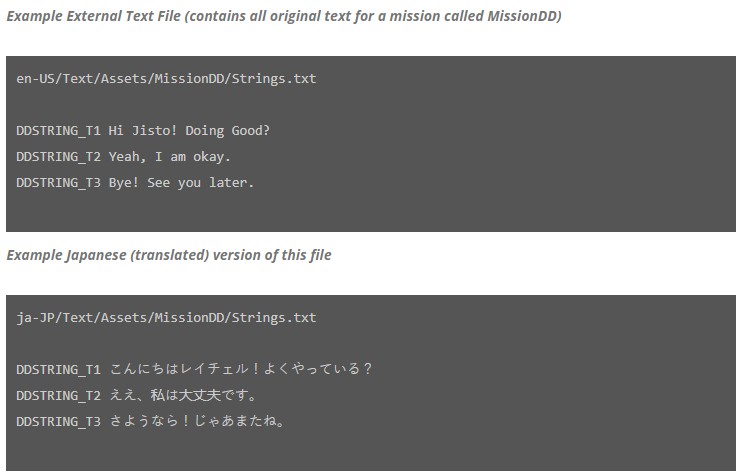 Image source: https://daydigital.com/video-game-internationalization-best-practices
It's also one of the goals of internationalisation to lay the groundwork for further localisation. At this point, it would be helpful to gather all the relevant information about all localisable strings and pieces of content. You can provide that data in the form of comments or create separate notes included in a specific folder.
Now, if you have everything organised and put together concerning[2]:
The order of the text
Context of the text in the game
The maximum length of the string (after translation) that the engine will still support
Any other string rules unique to your game
You're ready to go to step 3: localisation.
At Aploq, we believe localisation is vital in every translation project. The whole point of this service is to make your translated text 100% natural and compliant with the game but the social-cultural context of the given language is also critical. Localisation includes:
In-game and backstory: In short, you have to localise everything within the game itself, namely: character names, place names, weapons, artefacts and others. All of these terms and names must feel like they fully fit the game. If, for instance, you have a medieval RPG game, and your character name is Summer, something's wrong; this name doesn't fit in the medieval context. In some cases, you even have to change the name of the game itself or the main character. Consider the world-famous video game The Witcher. In the Polish version, it's "Wiedźmin", but this name is unknown to the English-speaking audience. Therefore, the creators of this game decided to translate it into a more understandable, English-friendly name.
Technical elements: In the internationalisation part, we told you about changing date and time formats, units, etc. However, the main idea there was to make these changes technically possible. When it comes to localisation, you have to make sure all the formats and units are selected correctly and natural to a specific target audience.
Marketing: Bear in mind that your game is not a lone island. There are also promotional materials that are used to interest potential buyers and encourage to them to place an order. Therefore, when you're working on localising a game or an app, you have to pay attention to all the sales and marketing materials as well. Make sure all of them are also translated and localised the same way the app/game was.
WHAT ABOUT LOCALISING APPLICATIONS?
Up to this point, it may seem like we talked primarily about translating and localising games. But the truth is, when it comes to web/mobile apps, the process and elements you have to keep in mind are pretty much the same. You still have to translate, internationalise and localise every single element.
Take a look at our case study regarding translating FizzUp, a French fitness mobile application. You will discover what our work looks like in real life.
Translate your games and apps with us!
Aploq is an experienced LSP working primarily (but not only!) with the Polish language. If you want to translate your app or video game into Polish and introduce it to Polish users, we're more than happy to help! Our translators have done similar projects in the past with great success. We will gladly help you prepare your game/app to amaze Polish customers. Just drop us a line, tell us something more about your project, and let us take it from there.
[1] https://gamerant.com/open-world-games-biggest-maps/
[2] https://daydigital.com/video-game-internationalization-best-practices