How to get a fair translation quote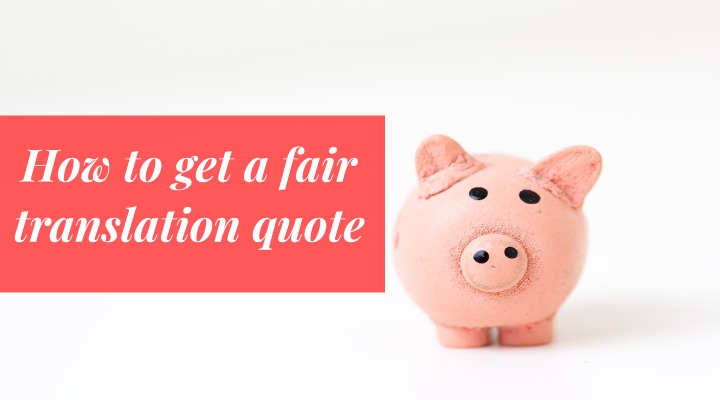 How to get a fair translation quote
You must get a fair and accurate quote for your project if you need translation services. This way, you can accurately budget and plan for the cost of the translation, all while building trust and transparency with your translation provider.
But how can you make sure that the quote you receive is fair? In this blog post, we'll be looking into the matter. We'll give you the inside knowledge on obtaining reasonable quotes and avoiding hidden fees or low-quality translations.
All right, let's get going!
Requesting translation quotes
First, ensure you provide as much information as possible when supplying details for your translation project. This guarantees that the quotation you will get is precise, eliminating any surprises.
If you're unsure about the information needed, don't worry – just ask! It'll help you receive the most accurate quote and save time in the long run.
Hint: The more info you give, the more accurate the quote will be, and the more likely the final translation will meet all your needs.
What information should be included in a quote request? Below you'll find some tips about the most accurate information.
Source and target languages
The first step is languages -both: the source and target. Be clear about language pairs and any specific dialects or variants. Why is this so important? The answer is simple, since different languages have different features and characteristics, which affects the price.
Another factor is the type of content. This can include anything from a website or legal document to a marketing brochure or social media post. Be specific, as translating a legal document may require a different skill set than translating a marketing brochure, and the price may reflect this.
The next one is estimating the number of words or pages in the source text. If you're unsure how many words or pages are in the source text, just provide your best estimate. Even a rough idea can help give the translation provider a sense of the project's overall size.
Be clear about your project's deadline. This means specifying not only the final deadline but also any intermediate milestones that may be relevant. Here's the thing – deadlines are crucial to the translation process. They help ensure the work is completed on time and to a high standard. They can plan their work by providing your translation provider with a clear deadline.
Formatting and layout requirements
What else? Let the translation provider know if your project has any special formatting or layout needs. This way, they can make sure the translated content looks as good as the original. Describe things like font size, spacing, and alignment, so there are no surprises later.
Special instructions or requirements
Before you send an inquiry, include any special instructions or requirements. It could be glossaries (a list of specialized terms you want translated a certain way), style guides (a set of rules for formatting and language use), or legal requirements (like if you need a certified translation for a legal document). That way, you'll get a quote that's tailored to your specific needs.
It helps if you give the translation provider a rough idea of what you're willing to spend. This way, they can suggest the best value choices for your finances. Make sure you factor in the quality of a translation as well – it's worth paying more for an experienced translator who will ensure your message is communicated effectively and accurately.
The most critical points from the above list are your project deadlines and budget. These factors are important, so take them seriously. By establishing your expectations upfront, you can avoid any potential issues that arise from miscommunication later on. Determine the not-to-exceed budget and timelines.
As a result, everyone knows what is going on and can plan accordingly.
Comparing translation quotes
What about comparing translation offers? There are many factors to consider. It's not just about the price but also quality, customer service, turnaround time and other features.
First, evaluate the experience of the provider. Does it specialize in the type of content you need translated? Do they have experience with the languages you are working with? Make sure they have a good track record and can show examples of their previous work.
Next, check the supplier's reputation. Are they known for providing quality translations and good customer service? Do they have positive reviews from previous clients? It's also a good idea to contact the supplier directly and ask them any questions you have to clear up any doubts and verify the offer.
And, of course, you should check any discrepancies between different quotes. Do they offer the same type of service, the same level of quality and the same turnaround time? Make sure you are getting the best quote for what you need.
Remember that when comparing translation quotes, you must look beyond price and evaluate the provider's experience, quality standards, reputation and any discrepancies between quotes. By doing your due diligence, you will be sure to find a translation provider that meets your needs.
Hidden fees and low-quality translations
It's now time for the less pleasant part, but you need to be aware of the hidden fees and low-quality translations. Nobody wants to get hit with unexpected charges or end up with a translation that misses the mark, so we have some tips to help you avoid these traps.
First, let's talk about hidden fees. These can be a real problem, but there are some things you can do to identify them. Follow our tips, and you'll be able to avoid them.
Look for itemized quotes to see exactly what you're paying for and avoid any surprise charges.
Be sure to check for minimum fees – some translation providers may have a minimum payment even for small projects
Watch out for rush fees, which can be sneaky little add-ons that increase prices.
Ask about revision fees, proofreading fees, and taxes and other charges.
What about low-quality translations? Nobody wants that. So how can you avoid it? Here you will find some other tips.
Clarify the source of the text – these are essential steps to ensuring a high-quality translation.
Don't be afraid to ask questions – make sure you understand the text and its meaning before translating it.
Ask for samples of their previous translations so that you can get an idea about their level of quality.
So, there you have some tips for avoiding hidden fees and low-quality translations. Keep these in mind, and you'll surely get the best value for your money.
Negotiating translation quotes
Can I negotiate translation quotes? This question is often asked by those looking for a translation service. You can make a great deal without compromising quality, but how do you do it?
Below you'll get some bits of advice.
It's necessary to define your financial parameters. Make sure to be honest about the amount you are willing to pay.
Feel free to get quotes from multiple providers. This can help you compare prices and services and help you negotiate a better deal.
Ask for discounts: Many translation providers offer discounts for bulk orders, repeat customers, or non-profit organizations.
Be willing to compromise.
Remember, negotiating translation quotes is all about finding a balance between price and quality. Don't be scared to express your needs, but be willing to negotiate and explore other possibilities. You can get a high-quality translation that fits your budget with a little negotiation.
Conclusion: Get a fair translation quote
Alright, let's quickly recap how to get a fair translation quote.
First and foremost, provide details about your project (e.g. special requirements, original and target languages, formatting). That way, you'll get a precise quote that fits your needs perfectly.
Ensure you understand the provider's pricing structure, whether by word, hour, or project. Check all hidden fees as well.
It would help if you informed the provider of your budget. They can work with you to find a solution that suits your financial plan.
However, remember quality first. Don't let price drive your decision, but look for experienced and professional translators who match the project's requirements and, if you need, try to negotiate the price.
And that's it! By tracking these tips, you'll be well on your way to getting a fair translation quote that satisfies your requirements and budget. If you have any additional questions or need support with your translation project, don't hesitate to contact the Aploq team. We're always here to help!