10 plugins to translate your WordPress website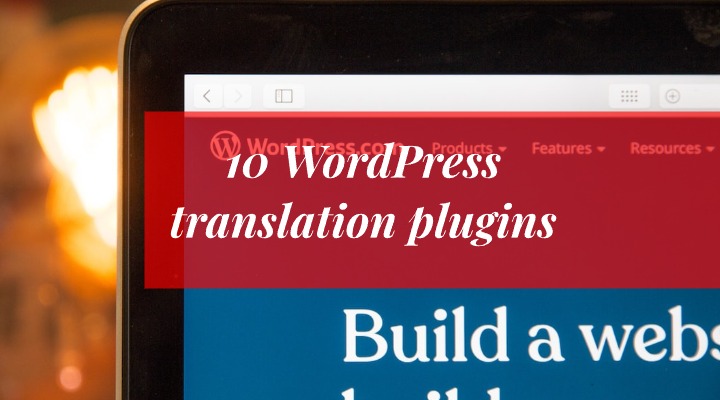 If your business is international or global, having a multilingual website can significantly accelerate the penetration of foreign markets. However, developing new content in additional languages can be tedious and time-consuming. That's why website owners often use the faster solution of installing translation plugins. Today, we'll look at the ten most popular WordPress site translation plugins and show you how you can use them.
Currently, as many as two-fifths (43% to be exact) of all websites are created and hosted on WordPress, which shows the incredible popularity of this CMS. WordPress is available in multiple languages at its core, but it does not provide translation services to run a website in various languages. To do so, you need to use a translation plugin.
Types of WordPress translation plugins
All available CMS WordPress translation plugins can be divided into two broad categories:
Those that provide multilingual options
Those with automatic translation features.
Most plugins offer both, but only in a paid version. The automatic option uses an algorithm to rephrase your WordPress website. This method is quick but can lead to errors and incorrect phrases, as computers are not 100% accurate.
In other words, you will have to develop new content or hire someone to translate your entire site through manual translation. Although manual translation can be costly and time-consuming, it ensures that you will get flawless translation along with the all-important localisation of texts. For quick and accurate effects, you can use automated translation and then consult the content with a professional translator and manually correct any errors.
A high-quality WordPress translation plugin can enhance your website in all global markets, but finding the best one can be a bit complicated. So, let's look at the key features of the ten most popular WordPress translation plugins.
List of the ten best WordPress translation plugins in 2022
Knowing what your options are when it comes to WordPress translation, let's take a look at the best WordPress multilingual and automatic translation plugins in 2022.
1. Loco Translate
Loco Translate is one of the most favoured WordPress translation plugins, with more than one million active installations. It lets you create a multilingual site smoothly. If you use a ready-to-translate WordPress theme or plugin, Loco Translate can automatically translate them, making the necessary translation files for each language.
Loco Translate is available in free and pro (paid) versions. The pro version allows you to assign roles and permissions to translators, so you can invite an unlimited number of translators to help you correct errors resulting from automatic translation.
2. Polylang
This translation plugin can translate your site into several foreign languages. An essential advantage of this plugin is that it automatically copies all your files when you add a new page in the following language with one click. After that, your role will be only to add the translations of the texts you develop or that you get from a professional translator. The base plugin is free, and you must pay €99 for the pro version for one site.
3. WPML
The WPML, i.e., WordPress Multi Language, plugin is also a solid player on our list. It contains an easy-to-use interface for adding translations and managing multilingual content on your website. In addition, WPML supports all post types, taxonomies, custom fields, strings generated by themes, and WordPress plugins.
WPML has two options for multilingual blogs and multilingual pages (CMS). You will need the CMS for e-commerce, page builder support, custom fields, translation team management, and other features. The plugin also allows you to connect your site to third-party translation providers. WPML is a paid solution. Its installation costs $29 for the multilingual blog version and $79 for the multilingual CMS.
4. TranslatePress
TranslatePress is ideal for manual translations. You can translate your site yourself or assign the role of a custom translator user to any other user on your site. These users can translate content without access to the administration area. With TranslatePress, you can solve not only content but also themes, plugins, and even metadata without changing the interface.
If a manual translation is time-consuming, you can also use Google Translator for machine translation. This approach allows you to use artificial intelligence-based translations with manual corrections. TranslatePress is a paid plugin starting at €79 for a personal license.
5. Weglot Translate
Weglot Translate is a relatively new plugin that has been an undisputed success and has become very popular quickly. With a 5-star rating, the average is 4.8, which is impressive considering that it already has more than 40,000 active installations to its credit.
The plugin owes its popularity to several available features, including the ability to collectively work on translations, support for both manual and automatic translations, and automatically redirecting users to the appropriate site version based on device/browser language. It is a paid solution, and Weglot Translate prices start as low as €9 for single pagination of up to 10,000 characters.
6. GTranslate
GTranslate is a translation plugin with rich features in both free and paid versions, which has already had more than 400,000 active installations. The plugin was developed specifically for WordPress and automatically connected to Google Translator API, downloading translations for any supported languages.
GTranslate also allows you to add a language switcher to translate web pages easily. You can also automatically translate content based on the language of the user's browser. The plugin is available in free and paid versions, allowing the translated content to be indexed by search engines.
7. Google Language Translator
Currently, more than 100,000 websites have this plugin installed. Google Website Translator allows you to use Google's Translator API to translate your site's content. In addition, it uses Google's default translation button, which you can display anywhere on your site.
Like the conventional Google Translator, it is a free WordPress translation plugin, but also, like the translation tool, the plugin does not provide fully reliable translations, free of grammatical or spelling errors.
8. MultilingualPress
MultilingualPress is a plugin that provides many compelling solutions and works perfectly with any platform. It allows you to translate your website neatly. The plugin also supports the creation and management of online stores.
This plugin is available in 3 different plans. The most basic solution costs $99 per year. The significant advantage of MultilingualPress is its excellent integration with other plugins, including Gutenberg, Yoast SEO, WPlang, WooCommerce, and MailPoet. In addition, MultilingualPress offers many configuration options, such as the ability to modify fixed URLs or create custom language switches.
9. Xili-language
The Xili-language plugin is a simple recipe for a multilingual site on WordPress. This plugin is free and allows you to create pages in different languages. Importantly, it enables you to translate all files in the CMS. In addition, the plugin has very high automation of operation and an extensive range of features.
Xili-language can be challenging to use, as web developers and programmers created it. You should also notice that it is only compatible with dedicated themes.
10. WPGlobus
WPGlobus lets you manually translate pages, posts, categories, menus, tags, and widgets. This plugin offers all the necessary parts to translate your site and manage translations. In addition, it can switch the frontend language and the option to change the language in the admin interface.
WP Globus also allows you to add more than one language and supports Yoast SEO and All-in-One SEO Pack. However, premium add-ons are required to translate URLs, language-specific keywords, or WooCommerce translation.
WordPress site translation automatic or manual – which to choose
There is no doubt that automatic translation has its advantages. First of all, it reduces the time to create a multilingual site. However, the text delivered automatically may contain spelling or syntax errors. Moreover, a website translated this way does not demonstrate the company's professional approach and detracts from its seriousness.
In addition, it is worth considering the issue of localisation of the translation, that is, its adaptation to a specific country, environment or market. A translation is intended to convey the message of the original text as accurately as possible, while a localisation service involves adapting the content in question for a specific audience. Without knowledge of the culture of the language and distinct society, it isn't easy to do this.
Any product or service you intend to introduce to a foreign market should undergo localisation. If you want your business message to reach and be understood by a foreign customer, it should be tailored to their language and culture. Therefore, we recommend working with a professional LSP to translate your website content.
If you need to translate your website into Polish – our linguists are at your service. They are second to none in translating from different languages to Polish. Therefore, you can be sure that you will receive a text that is not only grammatically correct but also adequately designed to reach a Polish audience, break language barriers and help you get to your target market effectively.