Translation trends for 2021 and beyond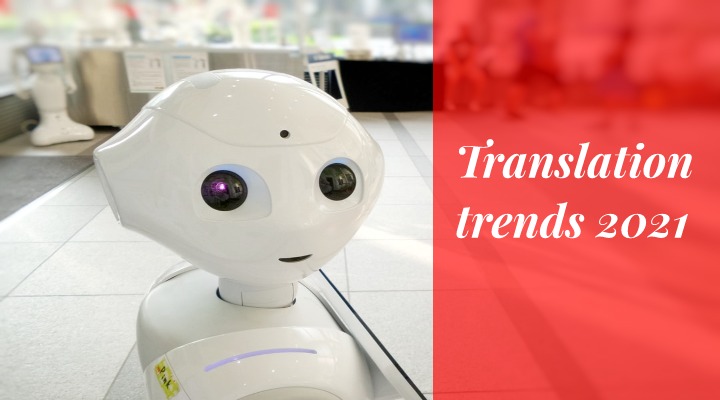 The year 2021 has just started: we're living in a new pandemic context and COVID-19 has totally changed the way we live and work. It's a good moment to think about the future – and about what that might look like for the translation industry. What are some of the common trends currently  shaping the translation-services industry? And what can we expect in the near future?
Today, no one doubts that the COVID-19 pandemic has totally changed the way we live and do business. Many industries – notably entertainment and travel – are in dire straits, while others are flourishing like never before (for example, e-commerce). On the other hand, some sectors have managed to navigate the COVID crisis with no sweat, seemingly unaffected by it. The translation industry is among them. The main reason? Well, this: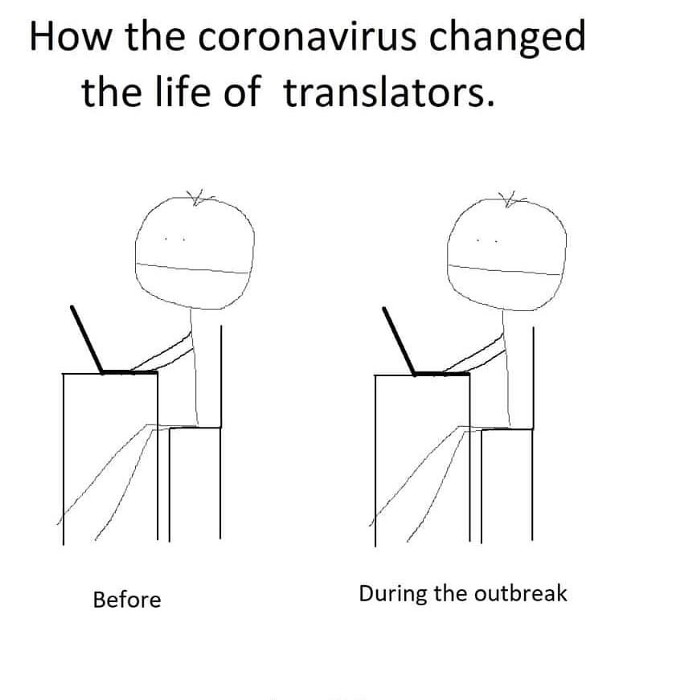 Image source: https://medium.com/not-lost-in-translation-a-guide-by-jala/covid-19-online-tools-to-help-translators-wfh-better-6f60c1bb0c22
But jokes aside, why has the translation industry remained relatively unaffected by the pandemic? Primarily, because translators are already thoroughly acquainted with a working-from-home setup. And secondly, because COVID-19 has created a massive need for new COVID-related content: manuals, legal regulations, healthcare directives and information, materials for patients and physicians, and so on. All of these materials have needed to be translated quickly into almost every modern language.
However, that doesn't mean that our work looks exactly the same as before the pandemic. Several aspects of it have changed. Let's take a closer look at them.
RSI: Remote Simultaneous Interpreting
For obvious reasons, interpreters now work mostly remotely. This means that the RSI service is popular as never before. What is RSI all about? Well, during a conventional conference or event, presenters speak in front of their audience, and everyone is located in the same room or auditorium, and that includes interpreters, whose soundproof booths are located in a designated place during the event.
Today, simultaneous interpreting is provided remotely, and both the audio and video content is streamed to the locations where the interpreters are based: to their offices or even their homes. This enables the interpreter to see and hear the speaker/host and do their job as usual. Of course, efficient internet connection, both at the venue and at the interpreter's location, is fundamental.
Machine translation (MT), human editing (Post-editing)
Interestingly, we've offered a post-editing service for several years now. And today, it has become prevalent in many sectors. The need for post-editing started with machine translations. Today, MT tools (like Google Translate) are becoming increasingly popular, but they're still not perfect and require a human touch. This is what post-editing is all about: enhancing machine-translated content to ensure that it's 100% correct and natural.
According to the 2020 European Language Industry Survey, 78% of all responding LSPs plan to start using, or increase their use of, machine translation and/or post-editing.
Even more interestingly, LSPs don't see MT as a threat and are generally interested in investing in MT solutions. According to the same survey, 66% of agencies and 44% of in-house translation teams expected to invest in machine translations in 2020. One thing is clear: machine translation is here to stay. It's our job to make machine-translated texts as accurate and natural as possible.
If you have machine-translated texts and you feel like they need some more work, we'll gladly help you with this.
AI in the translation industry
The fact is, artificial intelligence has become a normal part of our life and work, and we have to accept it. Although AI in the translation industry frequently focuses on MT (in order to facilitate the translation process) it does have other applications.  AI-based solutions in the translation sector are mushrooming and, in the coming years, we'll see dozens more. Meanwhile, here are two fascinating examples:
PERSADO
This is an application made by a marketing AI company that focuses on improving customer service through machine-learning-generated communication. According to Persado, their algorithms are capable of applying NLU (Natural Language Understanding) to marketing briefs and, based on this, of creating the best way to speak to customers across all channels and languages.
UNBABEL
This is an AI-powered language-translation platform that helps companies build multilingual communication with their customers without common language barriers. The  solution comes in handy with translating customer queries, website content and even real-time chats. According to the Unbabel, the platform combines the efficiency and speed of machine translation with a native speaker's language knowledge.
Video and audio translations
Video is everywhere, and it's a tremendous tool for capturing the attention of the target audience. Indeed, in the days of YouTube and TikTok, audio and video translations are becoming prevalent. According to HubSpot, 54% of consumers said that they want to see more video content. Only 46% said the same about written content. And since creating the same video in dozens of different languages is rarely profitable, there's an increasing need to translate such materials and clips. And, given that users frequently watch video content on their smartphones with subtitles turned on, someone will have to translate these, too.
It's our role to ensure your customers in Poland can watch your videos in Polish. If you have video or audio materials made in a foreign language that you need to transcribe and translate, we're at your service!
But remember that Aploq can help you with your other translation needs, too. Whatever you need to translate into Polish, we're happy to help. Just drop us a line and tell us more about your current project.