Translated Famous Polish Writers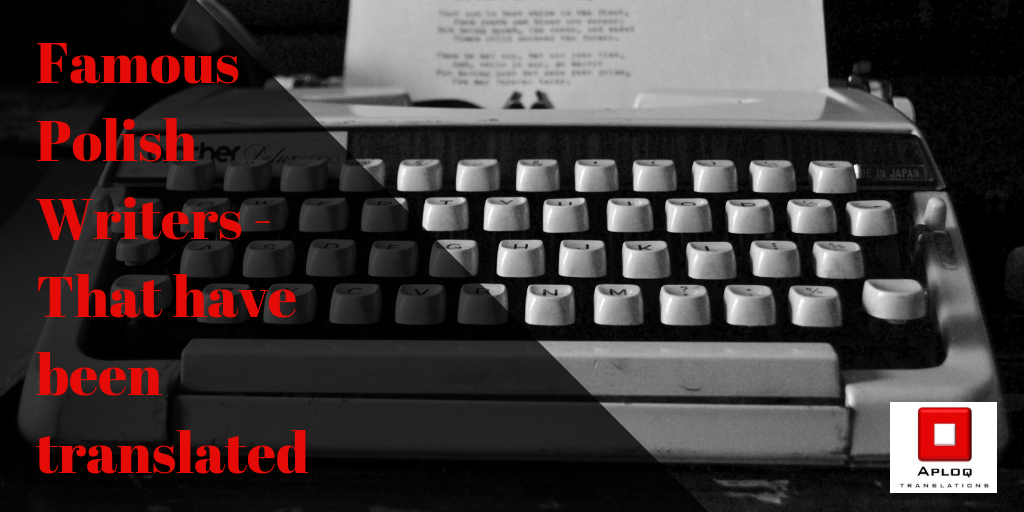 How do books get translated?
It's not an easy process to have books translated. They don't just get converted into a different language and hey presto everything makes sense, there are a lot of things to consider when translating the text for a global audience. A professional translator is a must; they translate the story so that it resonates with local readers. There could be culture-related themes that need to be addressed so that it makes sense to the new readers. Take an Irish book as an example – if a line in the book was "Sarah bought tickets to go to Electric Picnic", to people in Ireland it would be recognised as a music festival. But in order for it to make sense to other cultures, it would need to read "Sarah bought tickets to a music festival" to keep with the storyline and to make sure readers don't get lost.

If translating a novel, it's never just plain text there can be puns and they're difficult because a lot of the time puns just don't make sense in other languages. Also when you're dealing with culture-based jokes or political references are particularly challenging when they appear in a dialogue without damaging the character.

If you hire a professional translator, they will read and understand the book and will know how to present it in another language.
Famous Polish writers
As a leading figure in the history of Polish literature and philosophy providing a distinctive voice in world literature, Bolesław Prus completed four major novels: The Outpost, The Doll, The New Woman and Pharaoh.  The Doll (Polish title: Lalka) illustrates the romantic infatuation of a man of action who is frustrated by his country's backwardness. The Doll is considered to be one of the greatest novels of 19th-century Polish literature. The Doll was published in Poland in 1890 but was not translated into English until 1972, which then resulted in it being translated into Indian, Italian and Dutch.  The Doll was also adapted into a film in 1968 directed by Wojciech Has.
Wiesław Myśliwski is known for writing novels and plays that are usually discussed under the context of 'peasant literature' which deals with the problems of the identities of the province and its inhabitants in times of historical change. Myśliwski's most famous portrayal of the peasant fate is the novel Stone Upon Stone (1984) is a masterpiece of post-war Polish literature, Myśliwski's best book, and one of the most important achievements in Polish literature.

Stone Upon Stone was translated from Polish by Bill Johnston. Bill Johnston's translation of the book won three prizes—the PEN Translation Prize, the 2012 Best Translated Book Award for Fiction, and the AATSEEL Translation Award. Bill was also recognised by the Polish government with the Officer's Order of Merit of the Republic of Poland.
Born on the 3rd of July, 1983 in Wejherowo, novelist and playwright Dorota Masłowska began her career with publications of her poetry while she was still a student at Gdańsk University. While Masłowska was a student of cultural studies at Warsaw University, she had a lot of success with her first novel, Snow White and Russian Red (Wojna polsko-ruska pod flagą biało-czerwoną), Masłowska also became a regular columnist at some of Poland's most respected weeklies and monthlies. Masłowskas first novel Snow White and Russian Red is worldwide and critically acclaimed! It was then translated by Benjamin Paloff. Dorota Masłowska is still a mere age of 35 so there is certainly more to come from her.
As a Polish writer, activist and public intellectual, Tokarczuk has been described as one of the most critically acclaimed and commercially successful authors of her generation. Her most successful books, Flights' which is a novel about travel in the 21st century and human anatomy. Flights' was originally published in Polish as Bieguni, which was then translated into English by Jennifer Croft. Flights' was awarded Poland's best literary prize in 2008. Ten years later in 2018, Olga Tokarczuk became the first Polish writer to win the Man Booker International Prize for her novel Flights. Where Lisa Appignanesi, who chaired the judges' panel, called Ms Tokarczuk "a writer of wonderful wit, imagination and literary panache". There is a lot more to come from this wonderful writer so keep your eyes peeled!

Literacy Liberated
With famous authors from Poland and other countries, it means literacy is liberated and can be celebrated worldwide! It means everyone can understand each other and be less segregated and until there is such thing as a universal language (such as an emoji language perhaps). A professional translator and localisation team is necessary to break down the language barrier.
So, if you have a book you want to get translated or anything else for that matter, you know where we are.