Our Guide to International SEO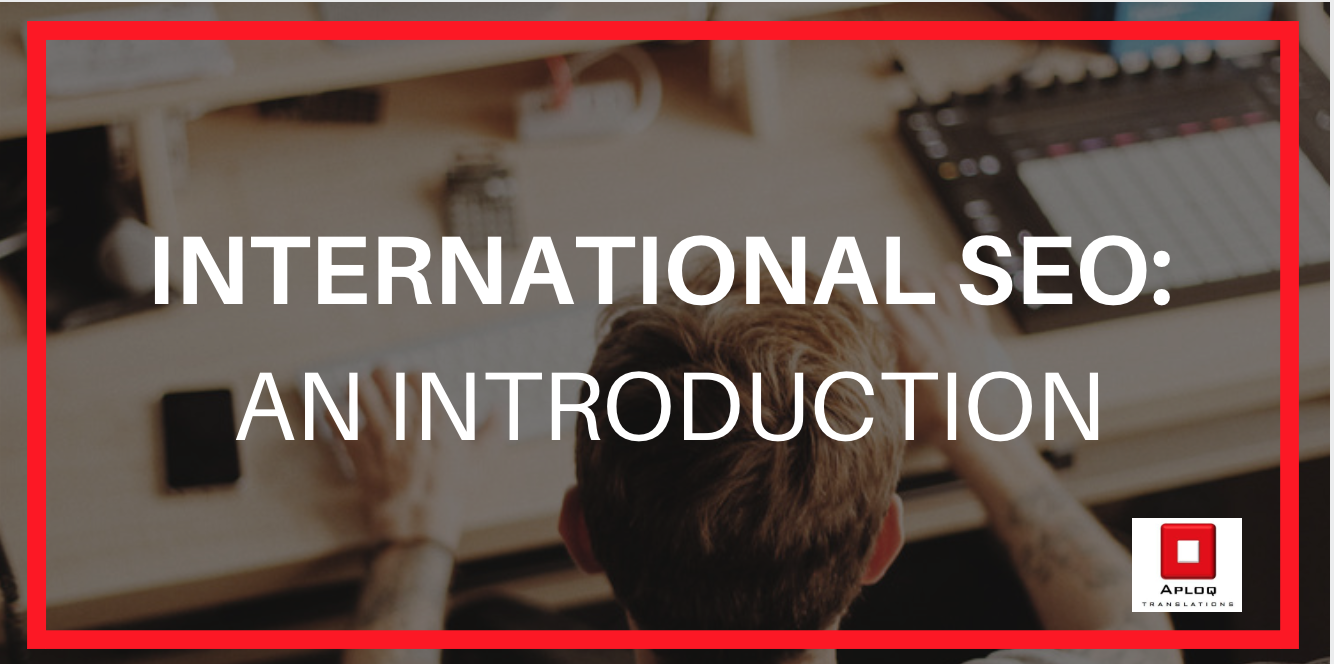 International SEO: An Introduction

The decision to expand your business into new language and regional markets is a big one. In today's ever growing online marketplace, the potential for reaching new audiences and increasing your consumer base has never been greater. Naturally, one of the first things every company considers is translation and localization of your current (and successful) marketing materials into your new chosen languages. However, one of the most effective marketing strategies when stepping into new locations is the implementation of market focused, International SEO.

What is International SEO?
Just having great content out there or on your website isn't in itself helpful for generating unique visitors if it's not search engine optimised for each specific country. There may be some tweaks to content or tags that are needed to make your translated website stand out in each regional market, just translating the content won't be enough. Search engine optimisation (SEO) involves enhancing elements of both the coding and the content on a web page to positively affect the website's rank in search engine results. The ultimate goal for any SEO is to increase the organic traffic to your site, thus creating more revenue streams. Of course, the rules for what works and doesn't work can vary significantly between countries and language regions. International SEO takes this process and applies it to each individual local market that you focus on, ensuring that both your content and your SEO are in sync with the target market.

Localization and SEO: Complementary Marketing Tools

The first crucial steps are to have your website and content translated and localized for your new target markets. Once this has been completed you will need to set up each new language/country domain. These can be in varying formats as either a subdomain (pl.domain.com), subdirectory (domain.com/pl) or ccTLD (domain.pl). These are domains for your new content that allow search engines to properly categorize where this new content should be indexed.

Hreflang Tags

The performance of each of your offerings must be considered when choosing your subdomain or region specific domain for your localized and SEO'd content. This avoids the issue of having two languages compete on the same platform or in the same region for traffic. Google uses hreflang tags to determine where to place your new language content pages or website in order to remain the most relevant to the searches and likely interest of their searchers. Always make sure you have a hreflang on each translated or localized page to ensure your efforts will yield results in your preferred location.  

Country Versus Language
Many of us mistakenly consider a country and its language to be interchangeable in terms of linguistics and culture. This is understandable, a large percentage of the top spoken languages have donor countries that have the same name; England is the birthplace of English, the Spanish spoke Spanish first and Chinese stems from China to name a few. Many of these such languages are used in other countries too, and actual speaker numbers can vary significantly.

For example, the top three spoken languages are in order:
Mandarin Chinese (1.1 billion speakers)
English (983 million speakers)
Hindustani (544 million speakers)

And yet, online, the top languages are:
English 25.3%
Chinese 19.8%
Spanish 8%

In terms of online usage, it's worth remembering that the languages are separate to the countries they originated in. It's still common to use a flag as a representation of a language on a website, however, there are many world languages that are widely spoken outside of their country of origin today. There are just over 60 million people living in England today, while closer to 1 billion internet users communicate through English every day. It's always wise to do your research to find out the internet users of your target language, which is likely to be significantly higher than that of the native speakers within the origin state.
Keywords

Just as with any localization project, international SEO efforts begin with targeted market research. By deciphering what keywords your new demographic are using to search for services and products such as yours, you put your business ahead of the competition. Even if you have already undertaken keyword research in your own local region, it's imperative that this process is refreshed for each new country. Once these keywords have been identified, then localization can take place, easily incorporating these invaluable marketing tools into your new language content, putting you in the best possible position in each new marketplace.

So, What's the Best Approach for My Business?

The choice between international language expansion and targeted country SEO and localization can depend on many factors from budget, scope and even what your business offers to consumers. While language focused international SEO may seem likely to yield more results based on numbers alone, SEO that focuses on the country as well the language is far more nuanced, and efficient for targeting the right people in the right way.

Country-focused SEO requires specific, tailored content and tagging approach for each individual country. While there are far fewer languages in the world than countries, by speaking to potential clients in a way that is familiar to them and is available in their own local area, you greatly improve your conversion rates than through straight language translation alone. Whichever path you chose for your business, international SEO is a daunting task, but when done right, it can spell the difference between disappointment and the success of your international marketing strategies.