Business links between Poland and Switzerland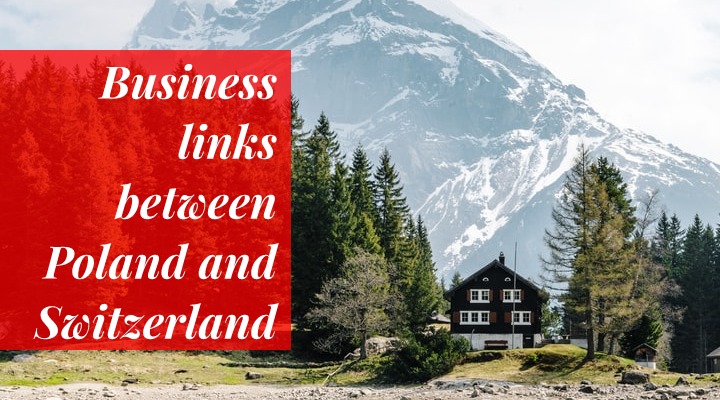 At the end of 2018, Switzerland was ranked 22nd in the list of Poland's trade partners in exports. Although the Swiss economy is well developed, it's based primarily on the insurance and banking sector. Nevertheless, economic relations between Poland and Switzerland look very optimistic today.
Switzerland is one of the wealthiest and most developed countries in Europe. A person working in Switzerland typically earns around 124,000 CHF per year (over 115,000 EUR).[1] The Gross Domestic Product (GDP) in Switzerland was worth 726.9 billion CHF in 2019.
Swiss industry employs almost as many workers abroad as in Switzerland. Within the country, research and development is a major sector, and Switzerland also hosts the offices and headquarters of many major companies and marketing departments. However, most production takes place abroad, where labour costs are lower and environmental protection regulations are less stringent.
The country is one of the most competitive economies in the world (Switzerland ranks fourth in the
Global Competitiveness Report 2018). That's despite high labour costs and restrictive environmental regulations. Moreover, Switzerland is listed in first place in the Global Innovation Index 2018. It has an attractive tax system, liberal regulations for setting up companies and foundations, a flexible labour code and a well-developed economic and banking infrastructure. The Swiss banking system administers over half of the world's private deposits.
Cooperation with Poland
Two packages of bilateral agreements govern economic relations between Switzerland and the EU. (Switzerland is not an EU member and does not intend to apply for EU membership.) These agreements also shape economic relations between Switzerland and Poland. So, what are we importing from Switzerland, and what Swiss investors are present in the Polish market? Let's find out!
Products with the largest share in Polish exports to Switzerland are industrial products, apparatus and electronics. Other exports include vehicles, furniture and housing equipment, metals and metal products, textiles, clothing and footwear. The main products that Poland imports from Switzerland are pharmaceuticals and chemical products, machines, apparatus and electronics, metals, precision instruments and watches.
According to the report provided by the Polish Ministry of Entrepreneurship and Technology:[2]
Polish exports to Switzerland in 2018 were valued at 1,963.3 million EUR
Polish imports from Switzerland in 2018 were valued at 1,684.2 million EUR
THE LARGEST SWISS INVESTORS IN POLAND
According to data provided by the Polish Central Statistical Office, in 2017 there were 612 companies with Swiss capital in Poland, including 261 employing more than 9 people and 130 with capital of more than 1 million USD.
The largest Swiss investors in Poland are:
Krono-Holding AG
Nestle AG
Kraft Jacobs Suchard AG
ERWO Holding AG
Model Holding AG
Stadler Rail AG

Polish–Swiss Chamber of Commerce
The Polish–Swiss Chamber of Commerce was founded in 1998 and is currently located in Warsaw. The Chamber has about 180 members, which include some of the major Swiss companies operating in Poland. In general, the Chamber seeks to establish favourable conditions for the development of Polish–Swiss economic relations.
The organisation's objectives are as follows:
Supporting the business activity of its member companies (primarily through networking)
Acting as a representative body for Swiss investors in Poland and Polish investors in Switzerland
Promoting and support Polish–Swiss economic relations
Promoting Swiss investments in Poland and Polish investments in Switzerland
Today, it is the largest organisation in Poland that consists of both Polish and Swiss companies.
The translation market in Switzerland
Switzerland has four official languages: German, French, Italian and Romansh. Over 60 per cent of the Swiss population speaks German and 22 per cent, French. Only 8.2 per cent of Swiss population speaks Italian, and just 0.5% – Romansh. The most widely spoken immigrant languages are:
English: 5.4%
Portuguese: 3.7%
Albanian: 3.2%
Serbo-Croatian: 2.5%
Spanish: 2.4%
Although we don't possess information about how many LSPs there are there in Switzerland, it's worth mentioning that translation agencies working for the Swiss government enjoy some of the world's highest per-word rates (data from 2015):[3]
Standard texts: CHF 0.40 (EUR 0.37)
Standard texts (rush jobs): CHF 0.50 (EUR 0.47)
Difficult texts: CHF 0.42 (EUR 0.39)
Difficult texts (rush jobs): CHF 0.52 (EUR 0.49)
Proofreading: CHF 90 (EUR 84)
We might expect LSPs working for the largest corporations to earn even higher per-word rates.
What's also interesting, as Slator.com reports, is that the Swiss government is keen to work not just with translation agencies but also with freelancers!
If you are interested in ordering translations in any of the Swiss languages, we are at your service! Just drop us a line and let us Polish up your content 🙂
[1] http://www.salaryexplorer.com/salary-survey.php?loc=210&loctype=1
[2] https://www.gov.pl/documents/910151/911704/Szwajcaria_-_sytuacja_gospodarcza_i_wsp%C3%B3%C5%82praca_gospodarcza_z_Polsk%C4%85__2_mies__2019.pdf/5ec4d93d-b3f1-7086-5607-0c20010c179e
[3] https://slator.com/features/the-rolex-of-translation-switzerlands-federal-language-services/