How to Speak to Polish Consumers Through Social Media Marketing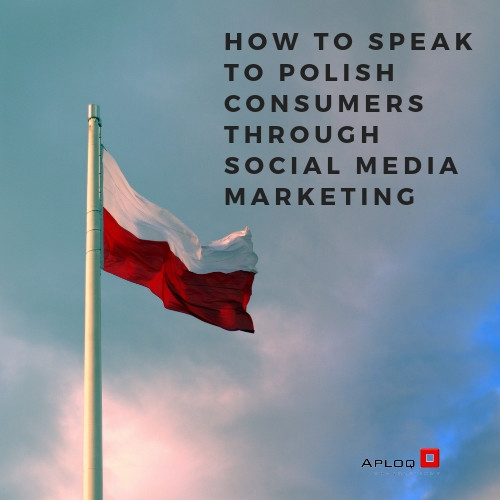 The world of social media marketing is always evolving and every social media marketer needs to keep abreast of the dynamic trends. Competition is stiff, and companies must personalize their social media campaign by targeting engaging with their consumers. The online market has great potential not only for generating sales but fostering a long lasting relationship with your consumers, promoting brand loyalty and heightened customer satisfaction in the long term.
However, harnessing this powerful marketing tool to its greatest potential is key. When it comes to online content, consumers have a limited attention span and very little time in which to take in the overwhelming information overload that they are confronted with on social media. So, if you wish to focus on a particular growing consumer market like Poland, how do you best tailor your efforts and beat the competition in attracting and retaining your target audience?
Localize Your Content
Learn who your consumers are, then structure your content to suit their lifestyles, culture, and demographics. When speaking to Polish consumers, your social media content should reflect the culture and tradition of Poland; the content should be about them. Talk about peculiar Polish traditions like fortune telling with hot wax on St. Andrew's Day or the wet Easter Monday. Even when discussing world events, you need to find a way to address it from the point of view of a Polish consumer. This will not only attract more consumers, but it will also retain their attention and keep them looking forward to your posts.
Relevant Content
Localization of your content is just one step. The content needs to be relevant and of high quality. If not, the attention you attract with your content localization will not be sustained. To beat content blindness, produce content that your social media consumers can identify with based on. For instance, theocratic references should always be carefully made, such as posts concerning the Catholic church which is Poland's dominant religion or other popular religions could generate interest but must be handled respectfully with consideration of the cultural history of the region.
There is no point in posting for posting sake, you need to make sure you have something meaningful to share. That way, your audience can interact easily with your content and build a stronger bond with your brand. Create content that will bridge the gap between your business and your target audience. You can achieve this by aligning the needs of your demographic and your social media marketing strategy. With new social media trends showing increased sharing of interesting, useful content, poorly thought out posts will probably never see the light of day anyway, as brands are hyper-aware of the need for creative content that can produce meaningful interaction lest they lose their own consumers.
Language Localization
This is so much more than translation. It requires cognizance and interaction between you and your consumers in their own language. This is especially important in Poland, where showing a respect for the mother tongue will generate more loyalty and engagement from the Polish market than the vast ocean of primarily English content out there. Gone are the days when you only interact with your social media consumers in one language, hoping they will cope. Now, you need to communicate with them in their own languages.
Many of your Polish consumers may resort to passive following when your content is in French, English or any other non-native language. Just because most of the internet may understand English, doesn't mean it will resonate with non-native speakers. For your Polish consumers, if you create interesting Polish content, not only will your audience understand the content more fully, they are far more likely to interact with your brand and actively respond to and share. This is key to creating a more meaningful connection long term.
Target Advertising
Paid social media advertising allows you to target your advertisements to your desired audience by demographics, location, and tastes. Likewise, your advertisement should also be localized for your Polish audience. It will attract them more than generic non-region specific advertising. Customize your message to speak directly to Poles by focusing on whichever social media you know they patronize more. Localizing your advertisement in this way will also boost its reach and impact.
Produce Engaging Content and be Available to Interact
The interaction between you and your consumers is a top priority for successful social media marketing. Steer clear of creating posts that will entice your followers to click only for them to be disappointed by the meaningless content. Clickbait may initially attract attention but it will not retain consumers; engaging content will. What's more, when your consumers do react to your content, you should be available to respond and interact with them at all times.
You can also use your social media to proffer solutions, educate, and even entertain. It must not be all about promotion all the time, to really get the most benefit from your targeted social media campaign. Speak to your Polish consumers with a personalized approach and you will get better results for your effort. Beat the competition by paying attention to your audience and employing a personalized approach. Social media marketing is about two-way interaction between you and your target market, there must be substance that you can add to the online conversation, it's not all about self-promotion all the time.