Unlocking the Polish market: Tailoring your SEO strategy for success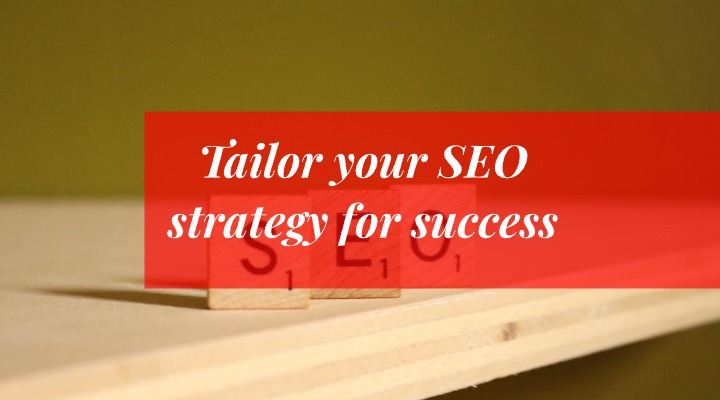 Every international SEO has its own specifics. It is the same with SEO in Poland, where winning a new market by foreign businesses does not have to be difficult and complicated. However, in order to do this, you should include in your marketing strategies a full image of users, the Polish language, and devices used to search for information on the Internet. Knowledge of this subject significantly increases awareness of the Polish market, on-site optimisation and content in Polish SEO. Understanding Search Engine Optimisation for this market can be very helpful when reviewing your own current strategy and adapting it to the specifics and expectations of this country.
Keyword research for the Polish audience
Business development and offering products and services online greatly increase foreign companies' demand for content marketing and SEO services. The use of such services should, however, be based on cooperation with agencies that know the specifics of the Polish market. Being familiar with the language, its spelling, grammar and the exceptions used in the way users create keywords is also very important in compiling their list. What should you know about keyword research in the context of the Polish market?[1]
A crucial role of keyword research in optimising for the Polish market
Keywords are very important in SEO. If you write on your website about something that users are not searching for, you will not get any traffic from Google. According to research, over 90% of websites have no traffic because their content does not respond to the queries of Internet users.
When developing a list of keywords, you should first think about "seed keywords", such as words that relate to your business, activities, services, and products offered. They should be the basis for creating a list that is used to generate subsequent, shorter and longer phrases searched by users.[2]
Over 94% of Polish search engine users use Google. Therefore, you should focus on the keywords that are most popular and in demand in this search engine.[3]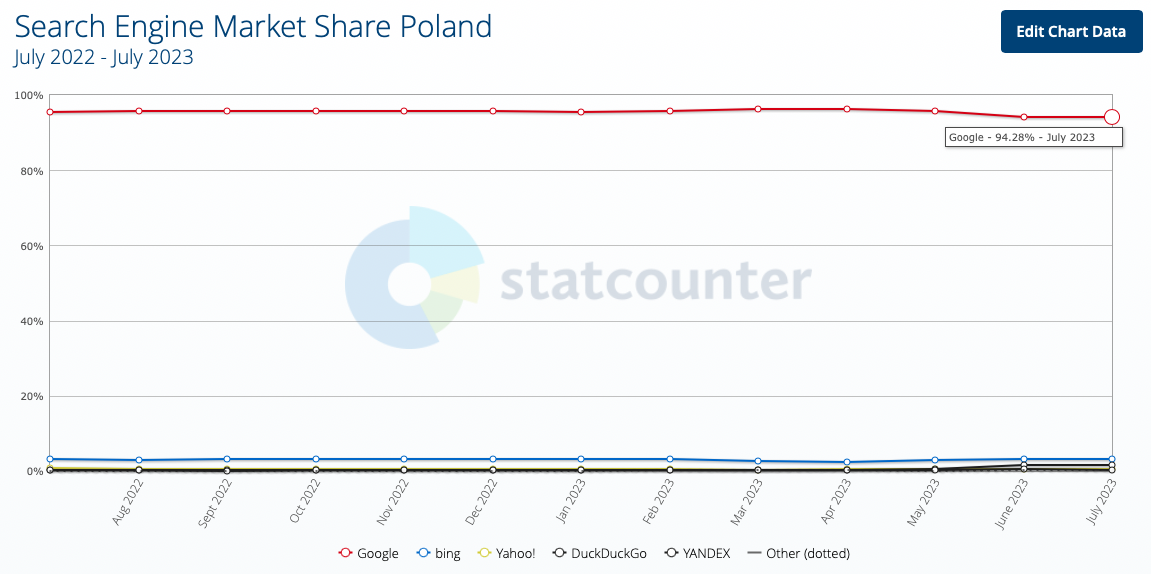 Source: https://gs.statcounter.com/search-engine-market-share/all/poland
According to research conducted by StatCounter in July 2023, 63.3% of users use the Internet on mobile devices. On the other hand, 36.7% of users use tablets, computers and other devices.[4]
Source: https://gs.statcounter.com/platform-market-share/desktop-mobile-tablet/poland
Users are also increasingly using voice search. This makes keywords to be long-tail queries that are more natural and more detailed.
Polish language specificity
Polish society is largely homogeneous—it uses one main official language, which is Polish. Therefore, the list of keywords should be primarily in its native language. This is one of the key reasons why a Polish SEO agency should develop this list.
Diacritics and declension are significant in Polish. The diacritics are special characters that are part of the Polish alphabet (ą, ę, ś, ć, ź, ń, ł). They are very important in spoken and written language. Keywords should include diacritics, as they may not be treated as synonyms in the search engine.
Declension causes a specific word to sound differently—then its suffix changes. The list of keywords created for the needs of the Polish market must include words in an inflected form to improve page optimisation.[5]
Localising your content
If a foreign business wants to increase its presence on this market, it must take care of local SEO. The key is knowledge of the Polish market and competition. In order to optimise the website for Polish users, you should also remember Polish traditions, customs, culture, and preferences.
The graphic below, published by Delante, shows how to do local SEO in Poland.
Culture factors
There are numerous businesses that compete with each other for search engine visibility. Cultural factors greatly influence SEO. Intrusive promotion and advertising may be ineffective and even cause the Polish customer to perceive the brand as aggressive and negative. It is definitely better to optimise a website thanks to content that provides information and expert value and builds a trustworthy brand image.[6]
Avoiding literal translation of keywords
It is very important that the website is translated into Polish. But you can't just use a translation tool. Such a translation will be too literal and not adapted to the specifics of the language and keywords searched by users on the Polish market.[7] What is important is a comprehensive approach to Polish customers, like providing them with content in Polish, payments in Polish currency, regulations available in Polish, the full name of the company, and its contact details. In this way, credibility is also increased, which makes the Polish users more willing to browse the content of the website.[8]
A deep understanding of cultural relevancy in content creation
Cultural nuances are very important in the SEO strategy for the Polish market. The more precise the company's offer and target audience are, the better the strategy should be refined regionally. Content created for increased online brand visibility may include references to culture, idioms, customs, holidays, traditions, trends and Polish mentality. In this way, organic traffic is increased, Polish values important to Poles are represented, and it also contributes to building strong relationships and emotional bonds.[9]
Strategies for tailoring content to resonate with the Polish mentality
In the SEO strategy for the Polish market, it is worth referring to Polish traditions, mentality, customs, etc. Cultural sensitivity in the case of localisation is extremely important. It helps to positively influence customers and even shape their consumer behaviour. Consider what is acceptable in that culture and be wary of what may be offensive. These are issues that are very important in the entire SEO strategy.[10] The values that matter are family, work, patriotism, religion, Polish food, art, architecture, literature, music, traditional holidays and the way they are celebrated.[11]
How can you tailor your SEO strategy?
How can you adjust your SEO strategy to your business plans and the expectations of the Polish market?
Remember about the development of valuable content, including keywords that relate to the product, service and one of the above-mentioned values, which are important for many Poles.
Increasing the value of a website with Polish content by making it credible. Its credibility can be confirmed by well-known personalities, specialists, and experts in various fields and of Polish origin.
Feedback—giving a chance to evaluate the content of the website, services provided or products offered. Poles love to get acquainted with the opinions of others and, on this basis, make decisions about further actions towards the brand. Encouraging reviews and feedback is a good idea to boost your website in the search engine.[12]
Google My Business—placing keywords and real information about the company, which, for example, is based in a specific region of Poland.
Social Media and Blog partnerships—increasing organic traffic by linking to your site on valuable websites, blogs, Facebook, Instagram, etc.[13]
On-Page Optimisation Strategies
All the actions you can take on a website can help search engines find your content, understand it, and determine its value. It is the same with Google—this search engine checks the content and makes sure that it relates to the keywords searched by users. It also checks whether the content is more valuable than on competitor sites. This is a big challenge for foreign companies competing with native Polish companies on this background.
The importance of content in the context of on-page SEO
What else do you need to remember when preparing content for your website for the Polish audience?
Remember to match the type of content to the intention behind a specific keyword.
From this point of view, the content can be in the form of a blog or product description, etc. It will be on an information or sales page. Content can be a blog post, a review, or a guide. Each keyword must be relevant and high-volume.[14]
The content must be comprehensive.
The more valuable information that is not present in the competitor's content, the greater the value of the page.
Content must solve the problems faced by the average Pole on a daily basis or provide tips that help him achieve specific family, professional and developmental goals faster, etc.
It is important to have a unique approach to the subject, providing the content with original research or bibliography which confirms the expertise of the article.
Each text must be easy to read and understand.
Images and videos that increase user engagement are of great importance.[15]
The significance of website structure optimisation
A giant wall of text is something that needs to be avoided as much as possible. Such content is not encouraging and makes users visit the competition's website. This is a factor that reduces the importance of the website in the search engine and negatively affects the website's SEO.
Title and Meta Description
Title and Meta Description are the first information that Polish users see. To increase their conversion, they must be understandable, clearly define what the user can expect after clicking on the link, include keywords and match search intent. Title and Meta Description with CTA (call to action) attract more attention. It is worth including long-tail keywords and remembering about linguistic correctness.[16]
Content structure
The content on the page must be divided into sections. They should consist of no more than a few simple sentences and contain keywords. Also remember to include H1, H2 and H3 headings and add keywords to them. More important information in the content can be bolded, thanks to which it will be easier for the user to scan the text according to his needs.
In-text ads
If you must display ads, try to use as few annoying pop-ups, parent ads and advertisements shown on the top of the website as possible. They have a negative impact on SEO and may be perceived badly not only by the search engine but also by Polish Internet users. The most annoying ads are those that significantly obscure the content that is important to the user.[17]
Integration of Polish keywords within the content
It is very important to include keywords naturally in your content. Remember about the declension, grammatical and spelling correctness. The keywords chosen must fully match the content and allow the text to be read fluently and understandably. Only then will the customer have a positive user experience and stay longer on the website.
The main keyword must be in the title, headings, meta tags, and first paragraph. Then, SEO optimisation will be more beneficial.
The Polish language allows you to create many key phrases, which include synonyms and variants of each phrase. It is worth using them interchangeably and thus increase the attractiveness of the text.
Keywords should be monitored on an ongoing basis to be able to systematically update the content. Trends specific to the Polish market should also be taken into account. Then, the selection of keywords will be adequate to the expectations and needs of Poles.[18]
Backlink building for Polish websites
What are the effective link-building tactics for the Polish market? In Poland, over 80% of the population uses the Internet. This is a great opportunity for foreign businesses to develop on the Polish market, especially in the e-commerce industry. Thanks to a professionally designed link-building strategy, you can significantly improve the visibility of your website and its position in the search engine.
The most commonly used solutions include content marketing, linking to your website on other websites, local directories, or attractive blogs. You can also choose to work with influencers and opt for sponsored or guest blog posts. This way, you can increase your organic traffic.[19]
Other link-building activities that are helpful in gaining more organic traffic and have a positive impact on SEO include:
Publishing press releases on Polish information websites.
PR campaigns that involve publishing articles with information relevant to the local Polish community and media.
Obtaining backlinks from Polish websites, news websites, highly ranked but niche websites, etc.[20]
The value of acquiring backlinks from Polish domains
It is very important to get backlinks from pages with Polish content, from Polish domains and websites with the same subject. If pages with similar content already have some authority, recognition, and trust to create backlinks to your website, Google will take this into account when ranking it.[21]
The graphic below shows what a good backlink should contain: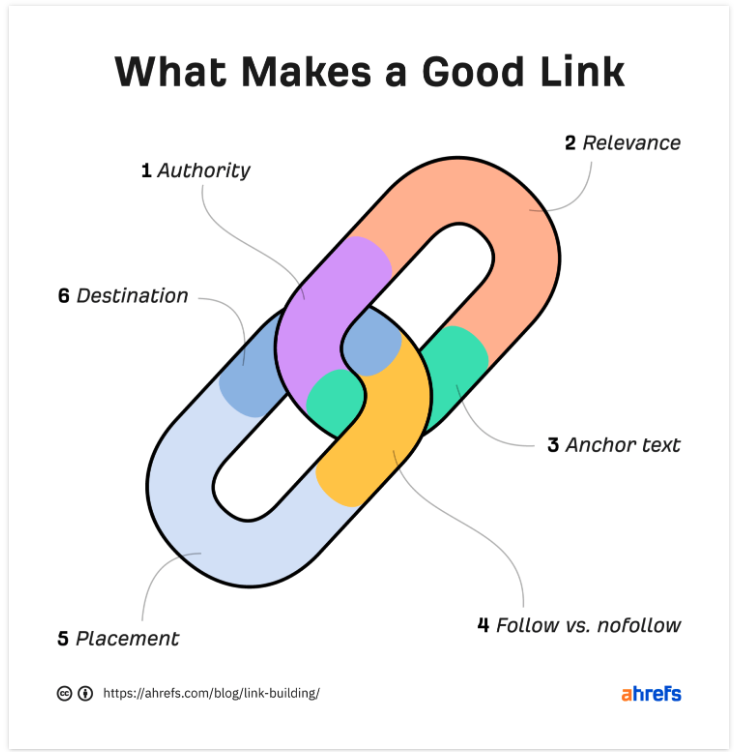 Source: https://ahrefs.com/blog/link-building/
Technical SEO for Polish websites
SEO requires a holistic, multi-faceted approach to building a Polish website and creating content on it. Details can make a huge difference and affect the user experience. Therefore, it is advisable to have some flexibility in creating an SEO strategy and to be able to introduce beneficial changes to it, as it happens with changes on the Polish market.
The importance of technical SEO for a smooth user experience
Websites intended for the Polish user must be intuitive in navigation and contain high-quality content. It is important that it is adapted to the algorithms of search engines and is easily indexed.
404 errors should also be eliminated. You must minimise the number of banners that are treated as spam by Polish users and significantly reduce UX.[22]
Website speed optimisation
Page loading speed also matters. Nearly 40% of Polish internet users expect a website to load in no more than 3 seconds. If the website speed is longer, users leave the website quickly, which means a lower value for Google.[23] This is why you need to improve rendering performance.
For this purpose, you can use any tool that provides access to Page Speed Insights and provides information on errors that need to be fixed. Remember that speed metrics are one of the Core Web Vitals that help to measure user experience and can have an impact on the position of your website in search engine results.[24]
Optimisation is therefore related not only to algorithms but also to UX, which in a way affects the value of the website and its ranking in the search engine.
Mobile-friendly and responsive design for a better organic search
Optimisation of the website must include tests of its visual aspect on different devices and in different browsers. Content will look different on a computer screen than on a small phone screen. It may be necessary to reduce file sizes, use other fonts, and display the menu differently. The text must be legible, and navigation on the website must be simple and intuitive.
The website design must be responsive and adapt to the width and height of the screen. The orientation of the phone, the proportions of individual elements on the website and the type of device are also important.[25]
The implementation of Hreflang tags for targeting different languages and regions
If you want to reach the Polish audience, you can use Hreflang. This is one of the HTML attributes that allows you to specify the language and geographic area for which the language version of the page is intended. Thanks to the implementation of the Hreflang tag, your website, available in many languages, will be displayed to Polish residents in the correct language version.[26]
An SEO strategy tailored to the Polish market needs: Conclusions
Resonating with the local Polish audience is a way to build a long-term relationship with people. The Polish market is saturated with many cultural, linguistic and social aspects specific to this nationality. There are also local differences, slang language and customs that may be incomprehensible to people outside this country or outside the region.
Thanks to SEO experts, you can avoid misunderstandings that may have a negative impact on the brand image and reach Poles with a message that will affect their emotions. It can allow them to identify with a given product or service and will be in line with their culture. In turn, linguists will take care of linguistic correctness, which is important in broadly understood SEO campaigns and strategies.
A Polish team of SEO experts and linguists can effectively attract the attention of a targeted audience. It can take care of every aspect that will increase the chance of a foreign brand getting a high position in search engines.
And if you're looking for a language team who can help you localise and SEO-optimise your content to Polish, we're happy to help!
Sources:
[1] https://delante.co/seo-in-poland/
[2] https://ahrefs.com/blog/keyword-research/
[3]https://gs.statcounter.com/search-engine-market-share/all/poland
[4]https://gs.statcounter.com/platform-market-share/desktop-mobile-tablet/poland
[5] https://delante.co/seo-in-poland/
[6] https://marketingdlaludzi.pl/seo-in-poland/
[7] https://www.termbase-us.gfluence.com
[8] https://marketingdlaludzi.pl/seo-in-poland/
[9] https://ga.agency/en/polish-seo-consulting-agency/
[10] https://www.mylanguageconnection.com/cultural-sensitivity-in-localisation/
[11] https://www.polishpod101.com/blog/2021/04/23/polish-culture/
[12] https://nnroad.com/blog/how-to-increase-brand-awareness-internationally/
[13] https://delante.co/seo-in-poland/
[14] https://www.linkedin.com/pulse/comprehensive-guide-on-page-seo-optimization-aymen-nadeem/
[15] https://www.linkedin.com/pulse/comprehensive-guide-on-page-seo-optimization-aymen-nadeem/
[16] https://www.ranktracker.com/blog/content-polish-review-does-this-article-optimization-tool-work/
[17] https://angrycreative.com/solutions/wordpress/on-page-seo/
[18] https://www.linkedin.com/pulse/understanding-keyword-density-enhancing-your-content-seo-rahman/
[19] https://seeders.agency/link-building-poland/
[20] https://seeders.agency/en-gb/link-building-poland/
[21] https://ahrefs.com/blog/link-building/
[22] https://nationalpositions.com/importance-of-technical-seo/
[23] https://seeders.agency/seo-poland/
[24] https://ahrefs.com/blog/technical-seo/
[25] https://www.linkedin.com/advice/0/what-best-practices-trends-mobile-friendly-responsive
[26] https://ahrefs.com/blog/technical-seo/