Is ISO 17100 really all it's cracked up to be?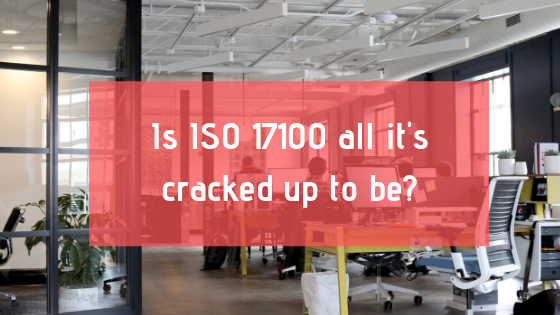 Certification. It's a word that fills companies with dread, and clients with trust. Certifications are powerful, but are they really all they're cracked up to be? You might be thinking I'm a bit bad for even suggesting something like this about the industry's flagship standard, the ISO 17100, but if you bear with me, I'll explain. Who knows, maybe you'll find you've had similar experiences, too.
ISO 17100 workflows
Just like any translation agency, here at Aploq, we want to give our clients the best. And that, of course, means us looking into the ISO 17100 standard. We want to get certified, but looking through the requirements in more detail really opened our eyes. It surprised us that we actually already have a better process workflow in place, and by changing everything around to suit ISO, our clients would actually end us losing out. You're probably wondering how? Well…let me explain!
If you're an LSP that offers translation only services, going for the ISO workflow will, of course, improve the way you do things. The ISO workflow makes at least one QA step compulsory, specifically that you have to have your work revised by a second translator, e.g.
Project Manager checks the project and chooses the right resources

Translator

Proofreading by a 2nd translator

PM does a final check before delivery
But for languages like Polish, revision by a 2nd translator doesn't take things far enough. The thing is, Polish (just like other Slavic languages) is a very difficult language to master. Just because you're a native speaker isn't proof that you've got a good grounding of your native language. If you're Polish and you studied English, French, or any other foreign language at university, you'll be amazingly proficient in the source language, but it doesn't help your Polish skills. We've found that almost every single graduate with a foreign language that doesn't include Polish doesn't have the Polish language skills required to translate flawlessly into Polish. Which is why our workflow goes:
Project Manager checks the project and chooses the right resources

Translator

Editing by a trained and qualified Polish linguist (at least 5 years at Uni studying Polish)

PM does a final check before delivery
We've found that by combining a translator with a trained Polish linguist who knows the source language but is an expert in the target language is a perfect combination, plus it's meant we can pretty much guarantee you'll never make a linguistic-related complaint against us. You see – 2 translators with the same education won't be able to notice each other's mistakes, whereas a linguist who's trained in the target language will be able to. It's the best of both worlds…but unfortunately, it's not ISO as they want us to swap our Polish linguists for a second translator. We could, in theory, have a second translator doing the editing and then have our Polish linguists editing afterwards, but if you were our client, would you be willing to pay for the extra workflow step?
What are your experiences when it comes to ISO 17100 with your language? While we totally agree with having a standard that betters our industry, especially one that puts such a great emphasis on things like personal development, I feel that you really can't treat every single language the same. Some languages are easier than others, and you've got languages like Polish that are so hard to master, we need to think a bit outside the box.
We'd love to hear your thoughts and experiences with your ISO journey. How has ISO 17100 improved the quality of your services? And have you noticed similar issues when it comes to your native language? Get in touch & let us know!