World poetry Day – Wislawa Szymborska
World Poetry Day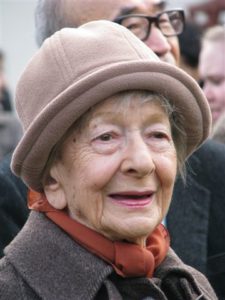 Wednesday was world poetry day, so to celebrate, Aploq would like to introduce you to our most noteworthy poet, Wislawa Szymborska. Ms. Szymorska was the fifth Pole to win the Nobel prize for literature in the last century. In her early life, she was heavily influenced by the Stalinist propaganda that promised how Poland would flourish. You can see this from her work in the mid-50s which show her being led by the socialist realism dream.
This period only lasted briefly as, like many, she'd seen first hand the reality of the communist era and the challenges of living behind the iron curtain. Although she was living through one of modern history's toughest eras, this hatred was channeled into producing some of her best work, giving it a fresh humor and wit. One of her most famous works, Utopia, is a fantastic example of how her hatred used to show off irony, play on words, and storytelling on a completely new level.
In the early 90s, we're sure you know that Poland joined the capitalist free economy that the modern world enjoys. This is the reason why it wasn't until 1996 that Szymborska was awarded the Nobel Prize. Sadly she passed away in 2002, yet her work was so highly respected that all of Poland went into a period of mourning at her loss.
Utopia
Island where all becomes clear.
Solid ground beneath your feet.
The only roads are those that offer access.
Bushes bend beneath the weight of proofs.
The Tree of Valid Supposition grows here
with branches disentangled since time immemorial.
The Tree of Understanding, dazzlingly straight and simple,
sprouts by the spring called Now I Get It.
The thicker the woods, the vaster the vista:
the Valley of Obviously.
If any doubts arise, the wind dispels them instantly.
Echoes stir unsummoned
and eagerly explain all the secrets of the worlds.
On the right a cave where Meaning lies.
On the left the Lake of Deep Conviction.
Truth breaks from the bottom and bobs to the surface.
Unshakable Confidence towers over the valley.
Its peak offers an excellent view of the Essence of Things.
For all its charms, the island is uninhabited,
and the faint footprints scattered on its beaches
turn without exception to the sea.
As if all you can do here is leave
and plunge, never to return, into the depths.
Into unfathomable life.
By Wislawa Szymborska
From "A large number", 1976
Translated by S. Baranczak & C. Cavanagh
You can read utopia here in Polish if you'd like to read the original. If you have any questions about polish culture or litrature, or just feel like having a chat, feel free to get in touch
Poland has a rich history of Nobel winners. Here's our five literature winning authors.